With its latest-gen Ryzen 3000 series, based on the improved Zen 2 architecture, AMD has really re-entered the PC gaming scene in a big way. Not only do the latest processors offer great gaming performance, but also (and most of all) superb value compared to Intel. And to further rub Intel's face in all this, the new X570 chipset in combination with the latest Ryzen CPUs is the first platform on the consumer market to support PCI-Express 4.0.
If you are on the verge of getting one of the new Ryzen CPUs, then you are going to need a compatible motherboard. Fortunately for some existing Ryzen owners, some previous-gen boards are able to house Ryzen 3000s. Here's a quick overview: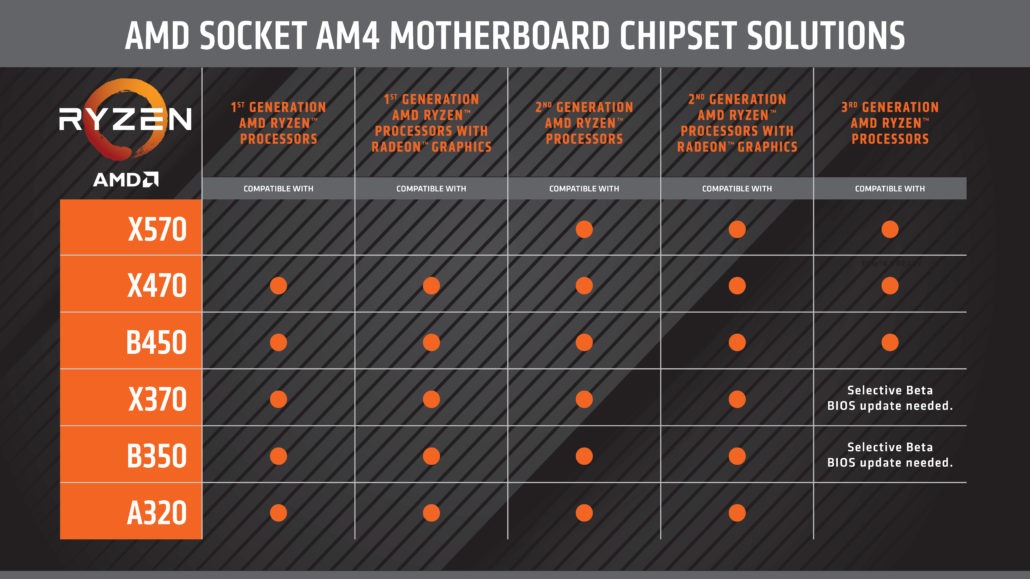 If your individual board will support Ryzen 3000 depends on the manufacturer. While the socket is the same – and AMD claims that you can use any B450 or X470 motherboard with the new AMD Ryzen CPUs – a BIOS update will be required.
If you're going to build a new system, on the other hand – or just want to get the most out of your new CPU and the benefits of PCI Express 4.0 (mainly speedy SSDs) – an AMD X570 motherboard is the most future-proof option for high-end builds.
However, here we are going to look into some of the best AMD X570 motherboards that you can get your hands on right now.
High-End, Mid-Range, and Budget AMD X570 Motherboards
The usual motherboard manufacturers have launched a variety of AMD X570 motherboards and most of them are aimed at gamers and other performance enthusiasts. Most have half a dozen or more variants on offer, ranging from the rather simple to expensive monsters like the water-block-covered ASRock Aqua. Unfortunately, no X570 boards are particularly cheap, as it's apparently a demanding platform. On the plus side, no boards on the market lack essential features such as ultra-fast M.2 slots.
High-end chips such as the new Ryzen 3900X that comes with 12 cores and 24 threads will need more power (105W TDP). You should go for a high-end motherboard with a good VRM in order to take full advantage of that powerful chip if you're going to overclock. However, if you're building a mid-range system, only pay for the features that you plan on using.
It's hard to pick an overall winner among the top X570 motherboards. But some of them will likely come close enough depending on your requirements. Based on their specs and averages from all professional reviews in our database, these are the boards that we feel comfortable recommending in the E-ATX (super premium), ATX (enthusiast) and ATX (value) categories.
Last update on 2020-02-26 / Affiliate links / Images from Amazon Product Advertising API
MSI's Godlike will deliver more than enough stable power for your overclocking needs, while also including a vast range of connectivity options and nice-to-haves – including a built-in OLED display and a couple of add-in cards for additional M.2 slots and 10 Gbit LAN. Unfortunately, it's not exactly affordable.
The Asus ROG Strix X570-E is more reasonably priced and looks like the best X570 motherboard in the standard ATX form factor. It has received top scores from professional reviews and users alike – and its feature set doesn't leave much to be desired.
As there are no particularly cheap X570 boards, our "budget" pick is the quite competent Asus Prime X570-P. While opting for the MSI X570-A PRO will shave off around $10, we definitely feel that you get better value with this Asus board. It has a better overall feature set, including RGB headers and what appears to be a better VRM (8+4 DrMOS).
Now for a more detailed look at the top X570 motherboards currently on the market. We'll start with the big ones. Feel free to skip to your preferred section using the quick links on the right.
Top Enthusiast E-ATX X570 Motherboards
Links: Reviews and details | Manufacturer's product page
Links: Reviews and details | Manufacturer product page
Reviews and details | Manufacturer's product page
The Best Premium ATX X570 Motherboards

For the vast majority of gaming PC builders, a solid motherboard in the standard ATX form factor is the best starting point for a new build. Unless your requirements are very specific, these boards are more than sufficient for providing a great Ryzen 3000-based gaming experience for years to come. Most of them offer plenty of overclocking headroom, while also being future-proof thanks to the PCIe 4.0 interface.

Reviews and details | Manufacturer's product page

Reviews and details | Manufacturer's product page

Reviews and details | Manufacturer's product page



Reviews and details | Manufacturer's product page

Reviews and details | Manufacturer's product page

Reviews and details | Manufacturer's product page
Small Form Factor Alternative: Strix X570-I Gaming
This is another board that supports PCIe 4.0 but it is smaller as compared to the other boards that we have looked into. Asus claims that the Strix X570-I Gaming is proof that the best things do perhaps come in small packages. The Strix X570-I is a mini-ITX board for people that are looking to build a small form factor build.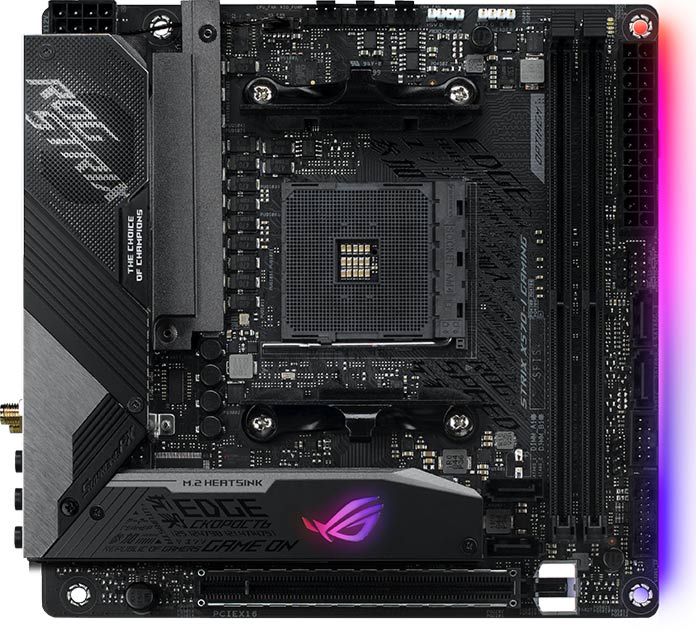 The motherboard features 8+2 power stages and features a heatsink that has its own fan. This allows you to overclock your CPU while keeping the temperature in check. The motherboard does come with an AIO header with the hybrid fan header if you are interested in liquid cooling your CPU.
It also has diagnostic LEDs that let you know what went wrong when an overclock crashes your system. There are only has 2 RAM slots, but that is not an issue for most users, as you can get 16 GB DIMMs and get 64 GB of RAM in total.
Other features include HDMI 2.0, DisplayPort 1.4, Intel Wi-Fi 6 Bluetooth 5.0. The RGB lighting is a staple for Asus products and you get that in this small motherboard a well. Not only does the logo light up but you get headers for connecting fans and lights. You can sync the lighting of the motherboard with other hardware components and peripherals that support it.
If you are looking to build a mini-ITX gaming PC that does not compromise on performance then the Strix X570-I Gaming will be a great place to start.
Summing Up
The new AMD X570 motherboards support the AMD Ryzen 3000 series chips that are based on the 7nm process. All of them offer support for the key feature of this generation – PCIe 4.0 – and an X570 mainboard is going to be the best way to access this feature from day one. A great thing about PCIe 4.0 is that it's backward compatible with legacy hardware, but PCIe 4.0 gear that utilizes the doubled bandwidth of the new standard is underway.
Here we have looked into some of what will likely be the best AMD X570 motherboards that you can buy in 2019. If you are looking for a premium motherboard that is designed for enthusiasts then the Asus ROG Crosshair VIII Formula is a great option to consider. If you need something that is a bit mainstream then you should check out the ASRock X570 Phantom Gaming X. If you are building a small form factor build that does not compromise on performance then you should look into the Strix X570-I.
Let us know what you think about these AMD X570 motherboards and whether or not you are interested in buying one for your next build or system upgrade!