Best NVMe Enclosures for Your Spare M.2 SSD
Gaming PC Builder is reader-supported. When using links on our site to make a purchase, we may earn an affiliate commission.
At some point, building PCs is bound to leave you with a spare M.2 NVMe SSD that you couldn't find a new home for. The sensible solution to this problem is to put it in an enclosure and reuse it for backups, network storage, another Steam library folder, or whatever else you can think of.
But what sort of enclosure? There's no shortage of these and they promise to do more or less the same thing, so we've taken a closer look to find out in what ways they differ.
Best M.2 Enclosures Based on Value & Functionality
Almost regardless of the SSD used, any USB 3.2 Gen 2 M.2 enclosure should be able to use all of its 10 Gbps bandwidth. The exception would be if you use a SATA SSD in the M.2 form factor, which would of course be limited by its internal 6 Gbps interface. Although some enclosures support these drives, they are quite rare and most will probably be equipped with at least a PCI-Express 3.0 (Gen3) SSD.
That raises the question of whether you have a faster USB 3.2 Gen 2×2 (or USB4/Thunderbolt) port that may come closer to maxing out the drive's capabilities. These are of course faster but also pricier and may not offer substantial benefits (more on this later). For now, we will argue that 10 Gbps enclosures offer the best value for most use cases. This is also the maximum usable bandwidth with a USB Type-A connector, which simplifies moving data between devices.
Product
Best Cheap Enclosure
SSK Aluminum M.2 NVMe Enclosure
Best Value
Ugreen M.2 NVMe/SATA SSD Enclosure
Best Premium Enclosure
Asus ROG Strix Arion
Best Cheap Enclosure
Product
SSK Aluminum M.2 NVMe Enclosure
Best Value
Product
Ugreen M.2 NVMe/SATA SSD Enclosure
Best Premium Enclosure
Last update on 2023-09-30 / Affiliate links / Images from Amazon Product Advertising API
Best Cheap M.2 Enclosure: SSK SHE-C325 Pro
Out of the cheapest NVMe enclosures we've tested, the SHE-C325 Pro from SSK stands out as a decent compromise of functionality and style. Performance is on par with any other USB 3.2 Gen 2 model, and it also comes with a thermal pad and rigid aluminum housing. Last but not least, the box also contains dual USB cables (C-to-A and C-to-C), which is convenient. Since this enclosure maxes out at 10 Gbps, it can utilize the full bandwidth with a Type-A connection.
Some compromises are nevertheless noticeable compared to slightly pricier models. All parts of the SSK enclosure, including the aluminum casing itself, are a bit more delicate compared to more expensive alternatives. It also uses a rather unconventional mechanism to lock the SSD in place, using a flexing PCB and plastic hooks. This might become an issue if you swap SSDs around a lot, e.g. for cloning.
Shopping links: Amazon, Newegg
Best Value: Ugreen SATA/NVMe Enclosure
The Ugreen SATA/NVMe M.2 enclosure has adopted a very practical and robust design. It ships with a thick thermal pad as well a protective rubber frame. Two cables with Type-A and Type-C connections are also included in the box. Instead of a tool-free design (which often introduces more problems than it solves), the enclosure's finned aluminum lid has a single screw, making it exceptionally easy to swap SSDs.
Like the SSK model, Ugreen's competitor uses the Realtek RTL9210B USB bridge, which supports both PCIe/NVMe and M.2 SATA SSDs. Of course, only a PCIe/NVMe drive will allow it to reach its maximum 10 Gbps sequential performance. While it offers no surprises on the performance side, what makes the Ugreen enclosure particularly attractive is an impeccable quality impression and easy operation. The only real downside to the abundance of aluminum used is that it's also heavier than average.
Shopping links: Amazon, Newegg
Best Premium (RGB) Enclosure: Asus Strix Arion
If you are looking for a premium design, the RGB-equipped ROG Strix Arion comes ready to shift colors along with your gaming rig using Asus' Aura Sync software. Instead of a Realtek USB bridge, the Asus variant uses an ASMedia ASM2362 chip that uses an internal PCI Express Gen3 x2 interface and does not support M.2 SATA SSDs. This is unlikely to be an issue for most users, as M.2 SATA drives are quite rare these days.
Asus highlights that the Strix Arion enclosure features 'screwdriver-free' installation, but has instead opted for a tool along the lines of a SIM tray ejector pin. The SSD is then secured using a thumbscrew (and/or a flathead screwdriver). The mechanism works well enough and thermal pads are pre-mounted on the enclosure's lid for a tight fit. As a result, the Arion runs quite cool despite being thinner than most competitors.
In terms of performance, the Asus enclosure is on par with other 10 Gbps models, but the main selling point here is of course design – especially the Strix Owl RGB highlights.
Shopping links: Amazon, Newegg
---
M.2 SSD Enclosure Performance
As mentioned previously, the performance of an M.2 PCIe/NVMe enclosure is limited mainly by the USB interface. In general, the sequential performance of a 10 Gbps USB 3.2 Gen 2 interface will be just over 1,000 MB/s, and you can simply double that to about 2,000 MB/s for USB 3.2 Gen 2×2.
To put these numbers in context, we have put the enclosures through some of the same tests and benchmarks that we use for testing SSDs. To eliminate any potential bottlenecks caused by the SSD, we've used the Samsung 990 Pro, a class-leading PCIe Gen4 drive.
Sequential and Random Performance (CrystalDiskMark)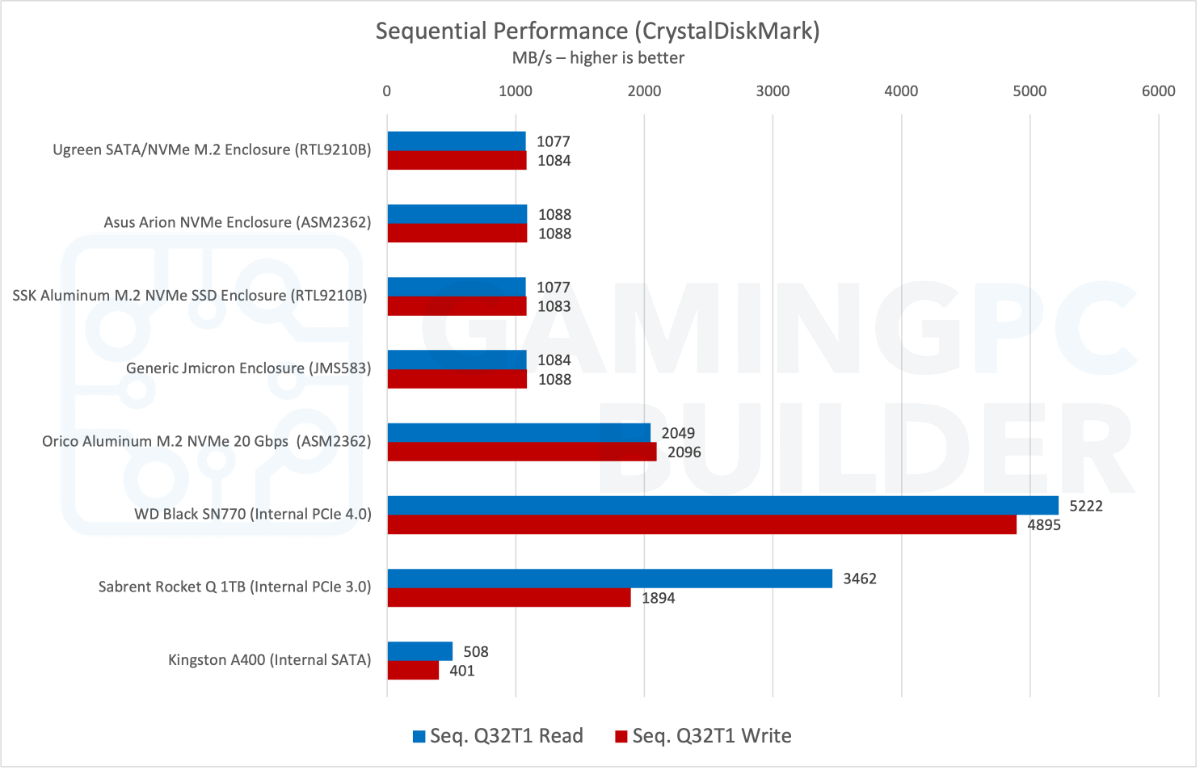 As evidenced by the CrystalDiskMark sequential performance chart, any decent M.2 enclosure will max out its interface bandwidth when connected to a sufficiently fast USB port. This also means that an external PCIe/NVMe SSD in a 10 Gbps enclosure is about twice as fast even when compared to high-end internal SATA drives.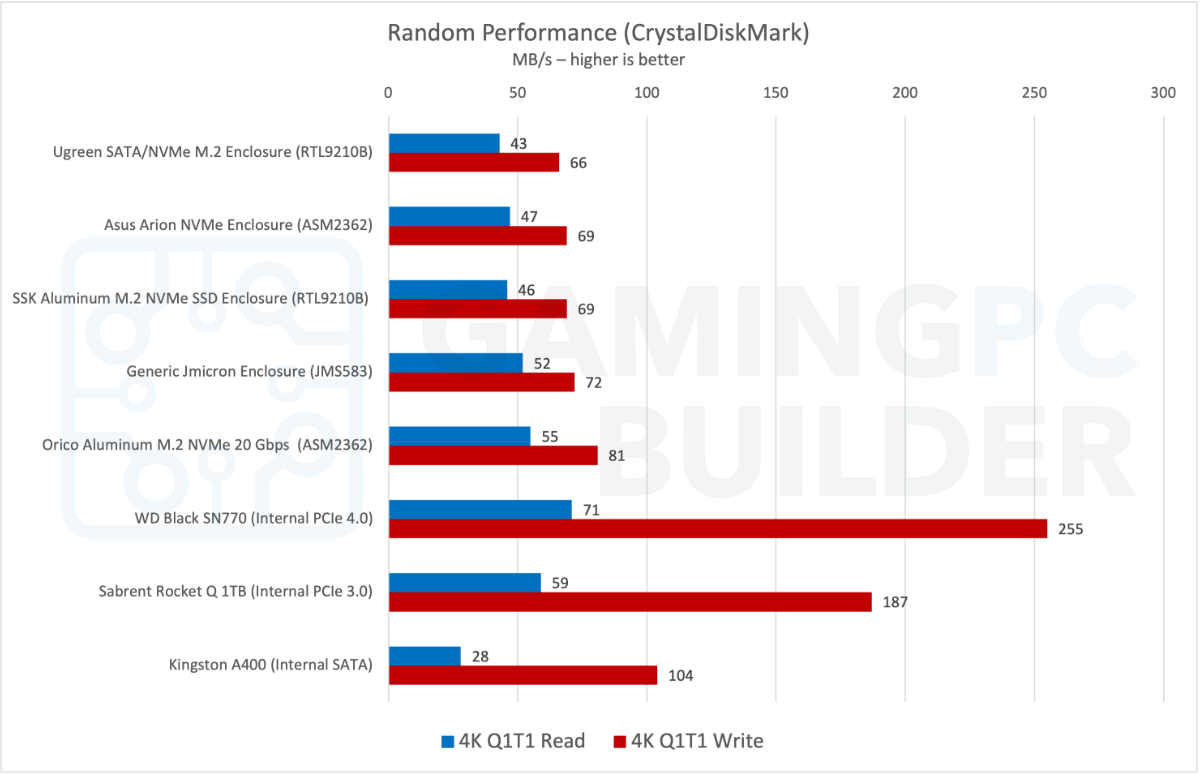 Random performance with small chunks of data (a better proxy for overall performance) evens things out further compared to mainstream internal M.2 SSDs. The USB interface is still a limiting factor, as a 20 Gbps enclosure is also significantly slower than, for example, the internal WD Black SN770.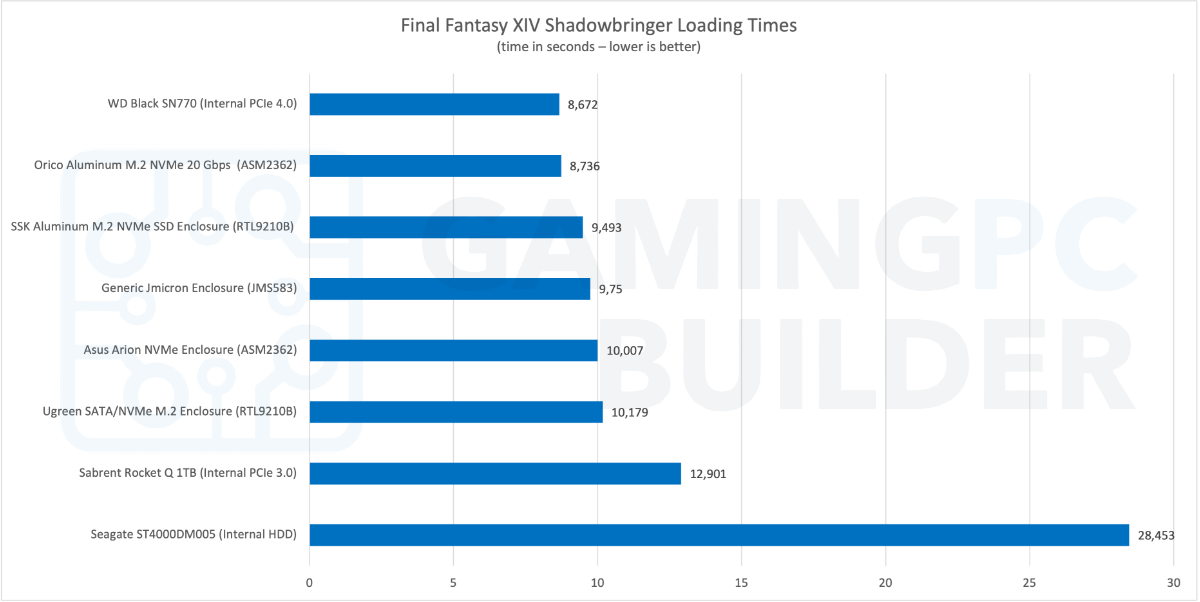 But how will an enclosure behave in a real-world-like gaming scenario? Load times in the FF XIV standalone benchmark are actually quite impressive, especially when compared to an internal hard drive. Interestingly, a 20 Gbps enclosure seems to offer some improvements here as well.
---
Is a 20 Gbps (or Faster) Enclosure Worth It?
Most M.2 SSD enclosures use a 10 Gbps USB 3.2 Gen 2 interface, which has the advantage of also being available on a relatively wide range of PCs and laptops. USB 3.2 Gen 2×2 (20 Gbps) is much less common, meaning that these enclosures will run at full speed on far fewer devices. Thunderbolt 3/4 or USB4 offers up to 40 Gbps of bandwidth but these interfaces are very rare outside of MacBooks and niche PC motherboards.
USB Bandwidth Chart
USB 3.2
Gen 1(x1)
USB 3.2
Gen 1x2
USB 3.2
Gen 2(x1)
USB 3.2
Gen 2x2
Thunderbolt/
USB4
Bandwidth
5 Gbps
10 Gbps
10 Gbps
20 Gbps
Up to 40Gbps
Formerly known as
USB 3.1 Gen 1
USB 3.0

--
USB 3.1 Gen 2
--
--
Connector options
Type-A
Type-C

Type-C only
Type-A
Type-C
Type-C only
Type-C only
Unlike Thunderbolt, USB is backward-compatible, so USB-based M.2 SSD enclosures can operate on slower interfaces but will be bandwidth-limited. Another limitation is that only Type-C-only cables are required at higher bandwidths.
Better Performance: Orico 20 Gbps M.2 NVMe Enclosure
If your computer is equipped with a USB 3.2 Gen 2×2 port, you may still want to max out the interface. Sequential transfer rates of more than 2,000 MB/s are better than 1,000 MB/s, after all, and will speed up your workstream if it includes moving lots of large files, such as video projects.
One option is the Orico 20 Gbps M.2 enclosure, which actually costs slightly less than the RGB-equipped Asus Strix Arion. This well-rounded aluminum enclosure is a bit heavier than its 10 Gbps counterparts, but still fairly compact. You only have to bother with a single screw and it includes a heatsink as well as a 20 Gbps-rated Type-C to Type-C cable.
Shopping links: Amazon, Newegg
Fastest M.2 NVMe SSD Enclosures: 40 Gbps USB4/Thunderbolt
The fastest SSD enclosures for consumers currently operate at 40 Gbps of bandwidth over USB4 or Thunderbolt. They tend to target Mac users since this is the only platform where 40 Gbps USB ports are widely available. However, a small but increasing amount of high-end PC motherboards and laptops come with USB4 connectivity.
As for enclosures that match these specifications, there are several Thunderbolt-based variants on the market such as the Acasis TBU401. This one uses an Intel JHL7440 Thunderbolt 3 controller and offers sequential performance of around 2,700 MB/s when equipped with a high-end NVMe SSD.
Shopping links: Amazon, Newegg
Compatibility: Interface, M.2 Keying & Sizes
USB interface speeds are one thing, but you also want to ensure that your spare SSD is actually compatible with the enclosure. M.2 is not an interface but a form factor that may use the SATA or PCI-Express interfaces. Additionally, M.2 SSDs come in different sizes (lengths) and with different arrangements of pins (keying).
In most cases, this is easier than it looks. Most M.2 SSDs from recent years are of the M-key variety and are 80 mm in length (22*80*). Most enclosures will also accommodate any length except the extremely rare 22110 (110 mm) size. Again, most are 2280 except for special cases like the Steam Deck.
Many enclosures, including the above-mentioned Ugreen and SSK models, also support M.2 SATA SSDs using the B+M-key pin layout, but most will be PCIe/NVMe and M-key.
Almost any PCIe 3.0 (Gen3) or newer M.2 SSD should be able to saturate 10 Gbps or even 20 Gbps worth of USB bandwidth. For this reason, it makes a lot of sense to use an entry-level or midrange SSD for an external enclosure. Using a high-end drive means that much of its performance is left on the table.
This changes once you move up to 40 Gbps over USB4 or Thunderbolt. When buying this type of high-end enclosure, it's worth checking the fine print (i.e. compatibility charts) and selecting the right SSD to make sure that it meets your expectations.
---
FAQ