SSK Aluminum M.2 NVMe SSD Enclosure Review
Gaming PC Builder is reader-supported. When using links on our site to make a purchase, we may earn an affiliate commission.
It's generally a good idea to double-check the product description before ordering a new SSD enclosure for your spare NVMe M.2 SSD. There are hundreds of M.2 enclosures in the market but their specs are not necessarily identical.
The SSK enclosure that we are testing today is a good example: there's a visually identical model of this one that only supports SATA-based (B Key or B+M Key) M.2 SSDs, meaning that it's incompatible with the far more common M-key PCI-Express-type drives.
This model (SHE-C325) actually supports either type and with a PCIe/NVMe SSD, it can reach a  maximum bandwidth of 10 Gbps.
Note: This product is a retail sample and was not provided by the manufacturer for the purpose of this review.  Why you can trust us.
Specifications
M.2 SSD Enclosure
Specifications
SSK Aluminum M.2 NVMe Enclosure
Asus ROG Strix
Arion M.2 NVMe
Ugreen M.2 NVMe/SATA
SSD Enclosure
Interface
USB 3.2 Gen 2
(10 Gpbs)
USB 3.2 Gen 2
(10 Gpbs)
USB 3.2 Gen 2
(10 Gpbs)
USB Bridge
Realtek
RTL9210B
ASMedia
ASM2362
Realtek
RTL9210B
Compatibility
M-Key
M&B-Key
(PCIe/NVMe)
M-Key
M&B-Key
(PCIe/NVMe)
M-Key
M&B-Key
(PCIe/NVMe+SATA)
Form Factor
Support
2230, 2242
2260, 2280
2230, 2242
2260, 2280
2230, 2242
2260, 2280
Material
Aluminum
Aluminum
Aluminum
Dimensions
4.53 x 1.54 x 0.43 in
(115 x 39 x 11 mm)
4.9 x 1.9 x 0.04 in
(125 x 48 x 11 mm)
4.96 x 1.61 x 0.55 in
(126 x 41 x 14 mm)
Weight
3.52 oz
(100 g)
3.46 oz
(98 g)
5.3 oz
(150 g)
Tool Free
No
No
No
Included Cable(s)
C-to-C
C-to-A
C-to-C
C-to-A
C-to-C
C-to-A
SKU
SHE-C325
ESD-S1C
90408
MSRP
$29.99
$59.99
$29.99
Shopping
Links
Amazon
Newegg
Amazon
Newegg
Amazon
Newegg
The performance of an M.2 enclosure will depend on the USB bridge chip and the connection type it supports. Like the Ugreen M.2 NVMe/SATA, this SSK NVMe enclosure uses a  Realtek RTL9210B bridge and has the same capabilities as the ASMedia ASM2362 found in the Asus ROG Strix Arion.
As long as your PC supports it, you will be able to use the full 10 Gbps of bandwidth using a USB 3.2 Gen 2 cable (Type-A or Type-C).
Design and Build Quality
Inside the box, you will find the aluminum enclosure, manual, a thin thermal pad, a small screwdriver, screws, and last but not least, one Type-A and one Type-C USB cable. This should ensure compatibility with most PCs and laptops including MacBooks.
As you would guess from the included screwdriver, the SSK NVMe enclosure does not use a tool-free design. However, there is just one external and one internal screw that you have to bother with when installing the SSD and that process is simple enough.
The internal PCB is a bit of an oddity. It is quite thin and flexes by design using a plastic spring mechanism that looks somewhat fragile. Screwing the SSD into place will straighten the PCB to let you apply the included thermal pad and push it into the housing.
Performance
Assuming that you use a PCIe/NVMe SSD, this and similar enclosures will be capped by the 10 Gbps USB 3.2 Gen 2 interface. This results in fairly identical sequential performance, maxing out at 1000–1100 MB/s. We test performance mainly to identify throttling issues, using the same 2TB Samsung 990 PRO that will by no means limit the enclosures' performance. It's hard to think of other reasons to use a high-end NVMe solid state drive in this type of enclosure, as there should be no noticeable performance benefit. 
Sequential & Random Performance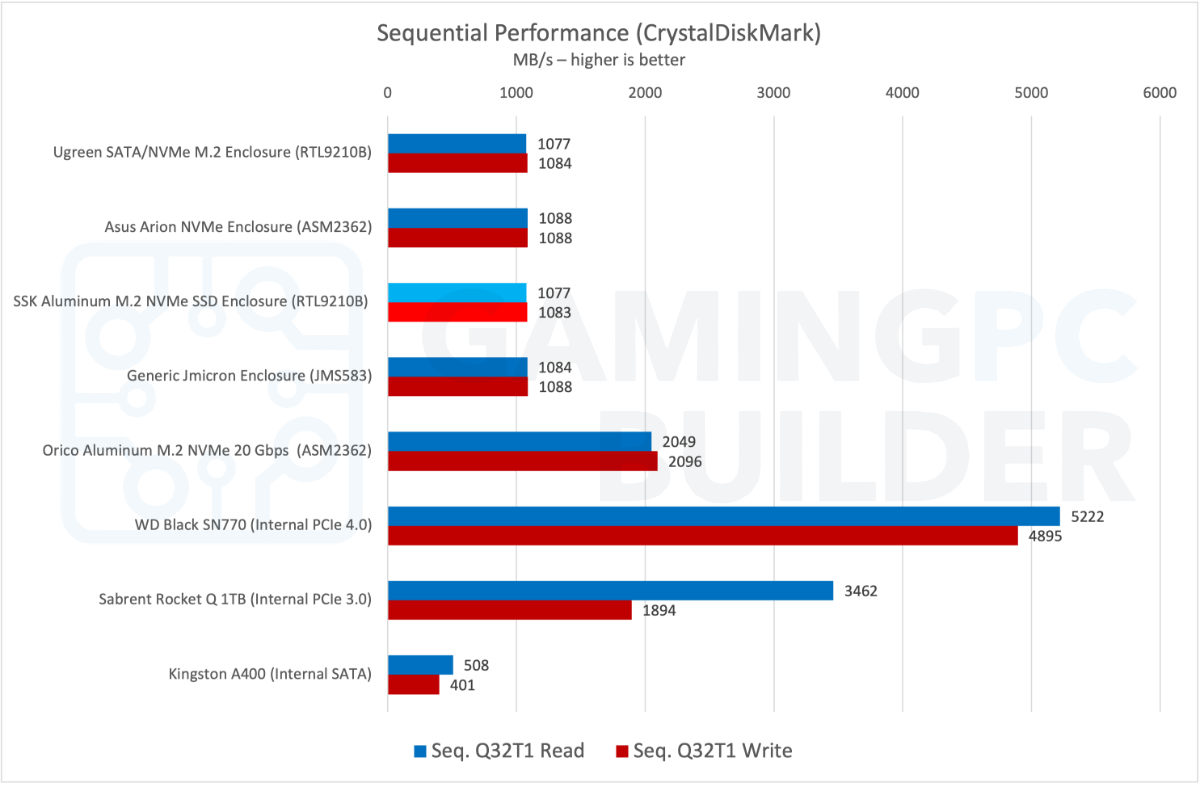 Our SSK Aluminum NVMe enclosure performs as we would expect from a 10 Gbps model housing a PCI-Express SSD. When used with an M.2 SATA SSD, these numbers should be roughly cut in half.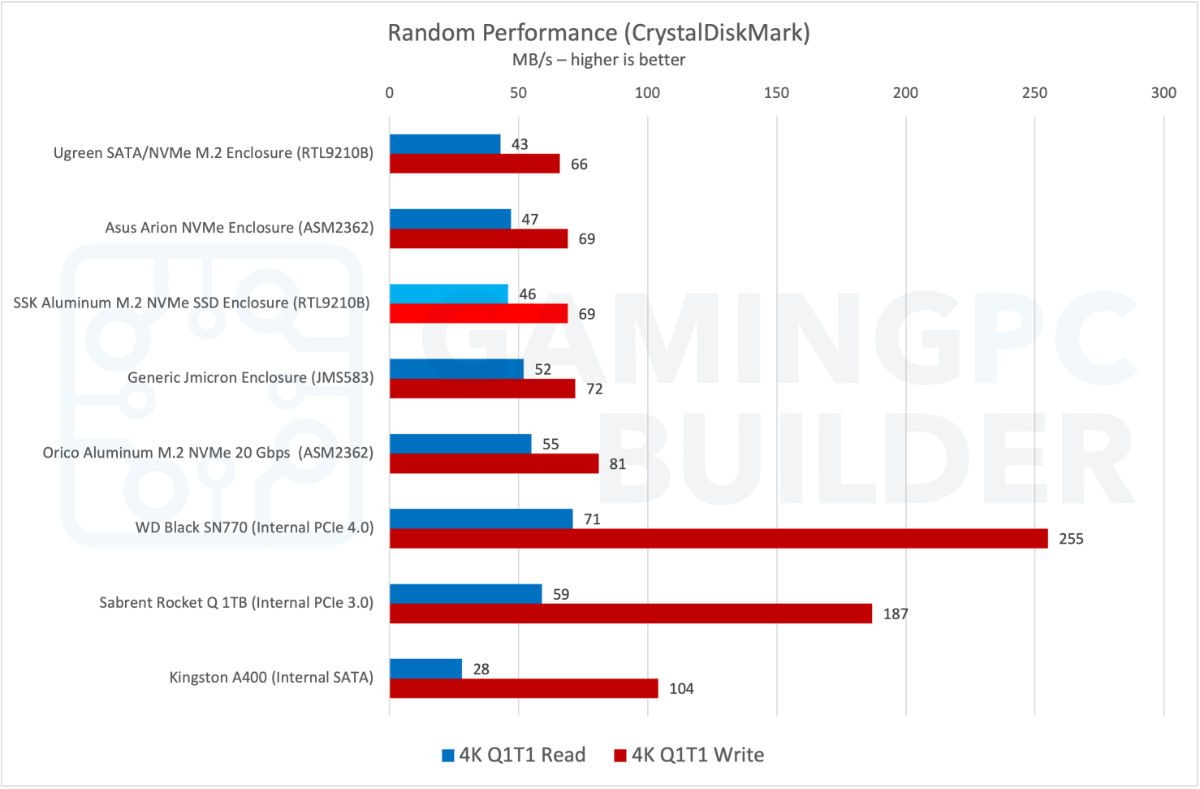 The random 4K Q1T1 performance numbers are, as always, much lower but also interface-limited as seen when compared with internal SSDs. Not even the 20 Gbps enclosure is much faster in this regard.
Response Times

Again, response times are behind internal NVMe SSDs, but still quite impressive. The SSK enclosure does not stand out in a good or bad way.
Gaming (FF XIV)

Loading your games from an external SSD using a reasonably fast 10 Gbps connection is definitely doable, as seen in this example.
Summary
While this SSK NVMe SSD enclosure is listed as having a $29.99 MSRP, it usually sells for around $20, which makes it one of the most affordable products of its kind. This is quite noticeable when holding it next to more expensive alternatives like the RGB-equipped Asus ROG Strix Arion and the Ugreen enclosure with the same USB bridge. The installation mechanism does not look like it will last a lifetime if you swap SSDs a lot.
This is all perfectly fine if you are simply looking for an affordable way to reuse a spare SSD. The SSK is just as fast as its more expensive USB 3.2 Gen 2 competitors, and the combination of an aluminum casing and thermal pad seems sufficient to keep temperatures in check.
SSK Aluminum M.2 NVMe SSD Enclosure
An affordable way to reuse a spare NVMe SSD
PROS
Durable aluminum casing
Type-A and Type-C cables included
Performance is on par with more expensive enclosures
CONS
Thin, flexible PCB and plastic spring mechanism