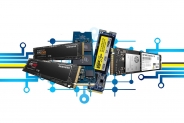 Gaming PC Builder is reader-supported. When using links on our site to make a purchase, we may earn an affiliate commission.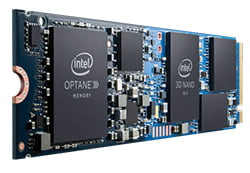 Moving to faster storage can shave seconds off most of your PC activities – from booting up your OS to loading apps and games. If you are currently booting from a hard drive, there is simply no other component that will have a comparable effect on your user experience than an SSD.
But not all solid state drives are created equal. If you have an available PCIe M.2 slot on your motherboard (desktop or laptop), then this is where to install your system drive. Preferably, it should also be compatible with the modern storage interface protocol NVMe.
Table of Contents
What is NVMe and is it necessary?
What SSD speed boils down to is how fast you can move data from storage (non-volatile, slow) to DRAM (volatile, fast).
NVMe – short for non-volatile memory express – was created to make the most out of solid state drives in combination with the PCI Express (PCIe) interface. Its predecessor is AHCI (paired with SATA), which was originally intended for mechanical hard drives. The newer protocol includes many efficiency improvements to deal with parallel transfers and the low-latency nature of SSDs. If you want to learn more about NVMe, check out this introduction by Intel.
When shopping for a new SSD, it's important to remember that M.2 is just a form factor that has little to do with performance. Some M.2 SSDs operate over the SATA interface, making them no different from a 2.5″ drive, performance-wise. If you have a recent motherboard, it most likely has a PCIe/NVMe-capable (much faster) M.2 slot, so this is the type of drive to look for.
Fastest Vs. Best Value M.2 SSD
If you want an M.2 SSD that is consistently fast in all areas – and don't mind paying a bit more – you should opt for one that uses MLC Flash (or 3D XPoint) memory chips. But if you don't work with storage-heavy applications, you won't notice the difference compared to a drive based on modern 3D TLC memory. TLC-based drives are more affordable but can be as fast as MLC-based SSDs in shorter bursts.
MLC, or Multi-level cell NAND, generally offer better endurance and overall performance than its triple-level cell counterpart. But for a vast majority of users, TLC endurance will be more than enough, and the difference in performance is in most cases insignificant. Consequently, both of our top choices right now use TLC memory but still strike a good balance between performance and value in their respective categories.
Product
Fastest M.2 SSD
Sabrent 1TB Rocket NVMe 4.0 Gen4 PCIe M.2 Internal SSD Extreme Performance Solid State Drive (SB-ROCKET-NVMe4-1TB)
Best Value (PCIe 3.0)
Samsung (MZ-V7S1T0B/AM) 970 EVO Plus SSD 1TB - M.2 NVMe Interface Internal Solid State Drive with V-NAND Technology
Image
Sequential read (max., MB/s)
Sequential write (max., MB/s)
Random read IOPS (4K/QD32)
Random write IOPS (4K/QD32)
Fastest M.2 SSD
Product
Sabrent 1TB Rocket NVMe 4.0 Gen4 PCIe M.2 Internal SSD Extreme Performance Solid State Drive (SB-ROCKET-NVMe4-1TB)
Image
Sequential read (max., MB/s)
Sequential write (max., MB/s)
Random read IOPS (4K/QD32)
Random write IOPS (4K/QD32)
Best Value (PCIe 3.0)
Product
Samsung (MZ-V7S1T0B/AM) 970 EVO Plus SSD 1TB - M.2 NVMe Interface Internal Solid State Drive with V-NAND Technology
Image
Sequential read (max., MB/s)
Sequential write (max., MB/s)
Random read IOPS (4K/QD32)
Random write IOPS (4K/QD32)
Last update on 2020-05-31 / Affiliate links / Images from Amazon Product Advertising API
Fastest PCIe 4.0 NVMe M.2 SSD: Sabrent Rocket Gen4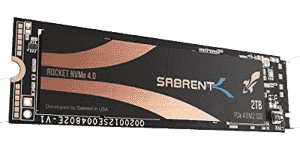 If and only if you have a motherboard that supports PCI Express 4.0, then this is a suitable SSD. At this point, only AMD X570 boards with a Ryzen 3000-series CPU and 3rd-gen Threadripper boards offer support for the interface. All current PCIe 4.0-capable SSDs are based on the same Phison PS5016-E16 controller and 3D TLC Toshiba BiCS4 memory. For this reason, they offer about the same performance. The other, nearly identical drives include (among others):
PCIe 4.0 SSDs are known to run quite hot compared to their PCIe 3.0 counterparts, so unless you have a motherboard with a built-in heatsink (often supplied with X570 boards), a heatsink is a nice addition to a Gen4 SSD. The Corsair MP600 is available with or without a heatsink, as is the Sabrent Rocket Gen4, while the Seagate Firecuda 520 ships without one.
When combined with the right motherboard, you will get amazing transfer rates of up to 5 GB/s with any of these Gen4 drives. Again, this is only with a compatible motherboard/CPU combo – otherwise, these drives will max out at PCIe 3.0 speeds, or about 3,500 MB/s.
Check prices: Amazon, Newegg, Amazon UK
Best PCIe 3.0 NVMe M.2 SSD: Samsung 970 PRO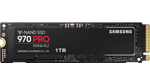 No single drive will take home the crown as the fastest M.2. SSD in every benchmark or practical use case. However, our choice as the best general performer in the PCIe 3.0 segment at the beginning of 2020, is still the versatile Samsung 970 PRO – a drive that currently tops many performance charts in the M.2 PCI Express category.
It's also considered one of the most reliable. Actually, Samsung's performance and reliability track record in the SSD segment has been almost flawless for nearly a decade, so it's a very comfortable recommendation.
The 970 PRO comes with Samsung's proprietary controller and MLC chips, as well as an excellent endurance rating of 1,200 TBW (1TB) or 600 TBW (512GB). Unfortunately, the 970 PRO is only available in two capacities: 512 GB and 1 TB, which limits your choices. It may also be a questionable choice when looking at the performance/$ equation because the cost per GB is well above average. Samsung announced a PCIe 4.0-enabled Samsung 980 PRO at CES 2020, but it was not yet available at the time of writing.
Check prices: Amazon, Newegg, Amazon UK
Read more about the 970 PRO in our SSD database >>
Best Value (PCIe 3.0): Samsung 970 EVO Plus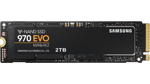 This will ultimately depend on today's prices for the best M.2 SSDs on the market (scroll down for a more comprehensive list). Nevertheless, Samsung's 970 EVO Plus is much more affordable than the PRO but very close in terms of raw performance. Although it doesn't use premium MLC NAND, this drive is among the very best – and will likely remain so until we see more competition in the PCIe 4.0 segment.
Check prices: Amazon, Newegg, Amazon UK
Read more about the 970 EVO Plus in our SSD database >>
On the same note, also consider the affordable yet well-rounded PCIe 3.0 Sabrent Rocket which offers an attractive mix of value and performance. This drive comes with a Phison E12 controller and Toshiba TLC NAND – a high-end combo that puts it nearly on par with the 970 EVO but at a significantly lower cost.
12 of the Fastest M.2 PCIe NVMe SSDs in 2020
There are alternatives to all of the above of course. Some of which could be better options if the price is right, so don't stop reading just yet. In the following list we've put together some of the best-performing, recently released drives. They are ordered by sequential performance first, random second. Because of the drives' different controllers and memory types, these numbers are only an indication of actual performance.
Remember that the Gen4 SSDs on top of the list requires a PCI Express 4.0-capable motherboard (X570 chipset) to run at full speed. In other words: don't pay extra for a Gen4 SSD unless you own a suitable motherboard or plan to upgrade soon.
High-End Alternative: Intel Optane 800p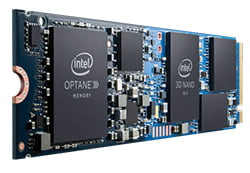 The last drive on our list should also be considered a high-end option. Although its sequential performance might not sound like much, Intel's Optane 800p is faster than all other M.2 SSDs in certain areas. Its extremely low latency makes random performance at low queue depths particularly good, which is an advantage in a system drive. The reason why it's hard to compare it with other SSDs is that it uses Intel's proprietary 3D XPoint memory instead of 'normal' NAND Flash.
Unfortunately, it also comes with a much higher cost/GB than competing drives and is only available in two tiny capacities – 58 GB and 118 GB. Read more about it here, or head straight to AnandTech for the most detailed review anywhere.
Check prices: Amazon, Newegg, Amazon UK
Which is the Best M.2 SSD for Gaming?
For the average user, the difference between an SSD and a hard drive – in terms of user experience – will be very clearly noticeable. The effect of shifting from one type of SSD to another will not be as dramatic.
All storage-intensive tasks that move lots of files around will be affected by an SSDs capability. However, a faster SSD will not necessarily shorten loading times in games by large amounts. Here's an interesting test from the web, comparing an M.2 PCIe SSD (970 Pro) versus an older 2.5″ SATA SSD (plus a mechanical hard drive) when loading various games:
SSD game loading test: fastest Samsung 970pro vs OLD SATA SSD vs HDD
Here's a summary of the data:
Game
Loading from
HDD
Loading from
2.5" SATA SSD
Loading from
970 Pro (PCIe/NVMe)
Decrease/Increase,
(NVMe Vs SATA)
Destiny 2

45s
31s
29s
-6%
Deus Ex: Mankind Divided
71s
27s
21s
-22%
DOOM
65s
49s
47s
-4%
Civilization 6
27s
18s
17s
-6%
Far Cry 5
25s
10s
11s
+10%
Path of Exile
23s
3s
3s
+0%
World of Warcraft
36s
7s
6s
-14%
Skyrim Special Edition
20s
9s
12s
+33%
Witcher 3
13s
7s
5s
-29%
Total
325s
161s
151s
-6%
Source: YouTube user Alexandr iuneWind
With these results in mind, it is probably safe to assume that a comparison of individual high-end M.2 PCIe SSDs will result in small differences as far as gaming is concerned. The usual price/performance calculation will serve you well. Of course, all seconds saved add up to minutes and hours in the long run, so a fast M.2 NVMe SSD is still a key component in a high-end PC. But in most cases, you can not expect the sort of radical performance gains that you see when coming from a traditional hard drive.
Will it Work in my Laptop/Desktop PC?
For the listed drives to work with your computer, it must have the proper slot and support for PCIe/NVMe. But there may be exceptions: Even without an M.2 slot on your (desktop) motherboard, you may still be able to use one in a full-size PCIe x4 slot using an adapter. But if you want to run your OS from the drive, your motherboard must still support booting from PCIe, which is no guarantee with older motherboards.
All recent, high-end ATX-size motherboards, on the other hand, include at least one M.2 slot and will be able to run a modern SSD at PCIe 3.0 speeds at a minimum. With an older board, you might not be so lucky. In any event, it's always best to check the manual before buying a new drive.
Keying and Sizes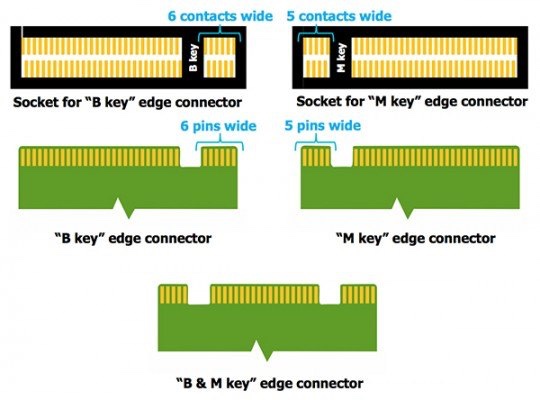 M.2 SSDs (and other M.2 cards) come in different sizes and some motherboards – particularly in laptops – will only hold a drive up to a certain size. They also have different sets of notches (keying) that will prevent you from installing it the wrong way.
M.2 Keying and Size
Three different key types or 'notch styles' may be used by M.2 SSDs: B, M or B&M. The socket can be either B or M, but not both.
High-end SSDs, as well as recent motherboards, will have to use an M-key slot, as this is the only type that provides four lanes of bandwidth, or 20 Gbit/s, also known as PCIe x4. B-key supports 'only' PCIe x2, or 10 Gbit/s.
On many motherboards, the connector itself or the PCB next to it will be labeled with the keying. Otherwise, check the specs or the manual. Likewise, M.2 card length might be stamped on the board, looking something like this:

High-capacity drives have additional memory chips mounted on the card and may require more space in some cases. The M.2 standard allows for cards of five different lengths, with the number format meaning width-length in millimeters. All sizes are the same width, so the two most common, 2280 and 2242, are 80mm and 42mm long, respectively (and so on). All sizes:
Not all motherboards – and much less all laptops – can accommodate the longest cards and some might not even support the common 2280 size (the format used by most of the drives listed above). 22110 drives are however very rare.
Also, don't confuse M.2 and mSATA, which is another, older standard. These slots may look similar on the motherboard, but they're not compatible. M.2 SSDs may also use the SATA interface, but that doesn't mean it's an mSATA drive.
Yes, it really is a bit confusing, but fortunately, M.2 2280 is the most common standard by far, so it's actually hard to get it wrong. But just to be safe:
Checklist Before Buying an M.2 SSD
Check the drive's interface and M.2 keying, e.g. B+M-key/M-key (all PCIe x4 SSDs are M-key).
Make sure it matches the slot on your motherboard or in your laptop. You can usually find this information on the specs page.
Also ensure that the length of the drive is supported, e.g. 2280 or 2242 (numbers in bold are millimeters).
To sum things up about keying and interfaces: it might sound complicated, but really isn't. If you are building a high-end PC based on a Z170, Z270, B350/B450, X370/X470 chipset, it will likely have an M-key slot. And if so, most of the popular M-key or B+M-key drives will work. But there are a few exceptions, so it's best to double-check.
Choosing the Right Capacity
You can hardly ever have too much storage space, but all of it doesn't have to be super fast. There is no reason to use an expensive, high-end SSD to store family photos, backups, or your entire Steam library.
Using myself as an example, my main PC has a primary 256 GB SSD that contains the stuff I use on a regular basis. That includes the OS, all work-related apps and a couple of games – basically what I want quick access to on a regular basis. The rest is mostly distributed on some affordable terabytes of hard drive space (local and NAS). On the local SSD, what takes up most of the space right now are those two games, both of which take up a lot of space.
In other words, what capacity you need will be very personal. If you just want a really fast computer for work (and who doesn't?), you can probably get by with as little as 128 GB and use hard drives for the rest. If you're an avid gamer, on the other hand, 512/500 GB is probably a minimum.
Most importantly, you want to boot from your fastest drive. That means it must be able to store the OS and all of its associated files (such as caches and swap). And it's not that much:
Windows 10 (64-bit): 20GB
MacOs Mojave: 12.5GB
Ubuntu 17.04: 25GB
Manjaro 18 (Arch): 30GB
Linux Mint 19.1 (Debian/Ubuntu): 20GB
Elementary OS 5 (Debian/Ubuntu): 15GB
Fedora 29: 10GB
OpenSuse 42.3: 5GB
Those numbers may or may not be a minimum requirement, but also add – at the very least – the amount of RAM in your system to be on the safe side (to make room for the swap file). Office apps are usually not that demanding either, with MS Office taking up about 4 GB of space on your SSD. Games tend to use a lot more but can range in size from a few hundred megabytes to dozens of gigabytes, so there is no simple answer. On the other hand, loading games from a slower device (but preferably still an SSD) is still a viable option, as seen above.