WD Black SN770 2TB Review
Gaming PC Builder is reader-supported. When using links on our site to make a purchase, we may earn an affiliate commission.
There is no shortage of DRAM-less, budget-friendly M.2 SSDs today, but they vary a great deal in terms of performance. Some affordable Gen4 drives like the Kingston NV2 are on par with Gen3 SSDs, while others – like the Crucial P3 Plus or Addlink S90 Lite – occupy something like a mid-range space. The WD Black SN770 belongs in this category.
Although it skips the onboard DDR4 DRAM buffer, the SN770 uses high-quality TLC memory chips and a proprietary SanDisk controller that seems to let it punch well above its weight.
Specifications
| WD Black SN770 | 250GB | 500GB | 1TB | 2TB |
| --- | --- | --- | --- | --- |
| Form Factor | M.2 2280 | M.2 2280 | M.2 2280 | M.2 2280 |
| Interface / Protocol | PCIe 4.0 x4 / NVMe 1.4 | PCIe 4.0 x4 / NVMe 1.4 | PCIe 4.0 x4 / NVMe 1.4 | PCIe 4.0 x4 / NVMe 1.4 |
| Controller | Proprietary | Proprietary | Proprietary | Proprietary |
| DRAM | No | No | No | No |
| Memory | 112-Layer TLC | 112-Layer TLC | 112-Layer TLC | 112-Layer TLC |
| Sequential Read | 4,000 MB/s | 5,000 MB/s | 5,150 MB/s | 5,150 MB/s |
| Sequential Write | 2,000 MB/s | 4,000 MB/s | 4,900 MB/s | 4,850 MB/s |
| Random Read | 240K IOPS | 460K IOPS | 740K IOPS | 650K IOPS |
| Random Write | 470K IOPS | 800K IOPS | 800K IOPS | 800K IOPS |
| Endurance | 200 TBW | 300 TBW | 600 TBW | 1,200 TBW |
| Warranty | 5-Years | 5-Years | 5-Years | 5-Years |
| MSRP | $59.00 | $79.00 | $129.00 | $269.00 |
In Western Digital's SSD naming scheme, WD_Black is the gaming or enthusiast-level branding. In other words, the SN770 is in a tier above the WD Blue drives, but as it lacks onboard DRAM, also a step below the flagship WD Black SN850X. According to the specs, it is still faster than you might expect from a DRAM-less SSD.
Most manufacturers use third-party SSD controllers from the likes of Phison, Silicon Motion, or InnoGrit. WD and Samsung are among the exceptions that design their SSDs from the ground up, using proprietary controllers. In this case, it's a controller by WD subsidiary SanDisk with the designation '20-82-10081-A1′. The exact specifications of this chip are not publically available.
Usually, larger SSD capacities perform better than smaller ones as they are better equipped for parallel transfers. This phenomenon can be seen in the SN770 as well, but only when going from 250 GB up to 1 TB. Performance actually declines from the 1 TB to the 2 TB model. Only the sequential write and random read areas are seemingly affected, however, and only by amounts that are unlikely to be noticeable in the real world.
The 2TB capacity that we are testing here is currently (mid-2023) the largest one.
WD Black SN770 2TB: Benchmarks
Note that our 2TB WD Black SN770 is a retail sample and was not provided by the manufacturer.
AS SSD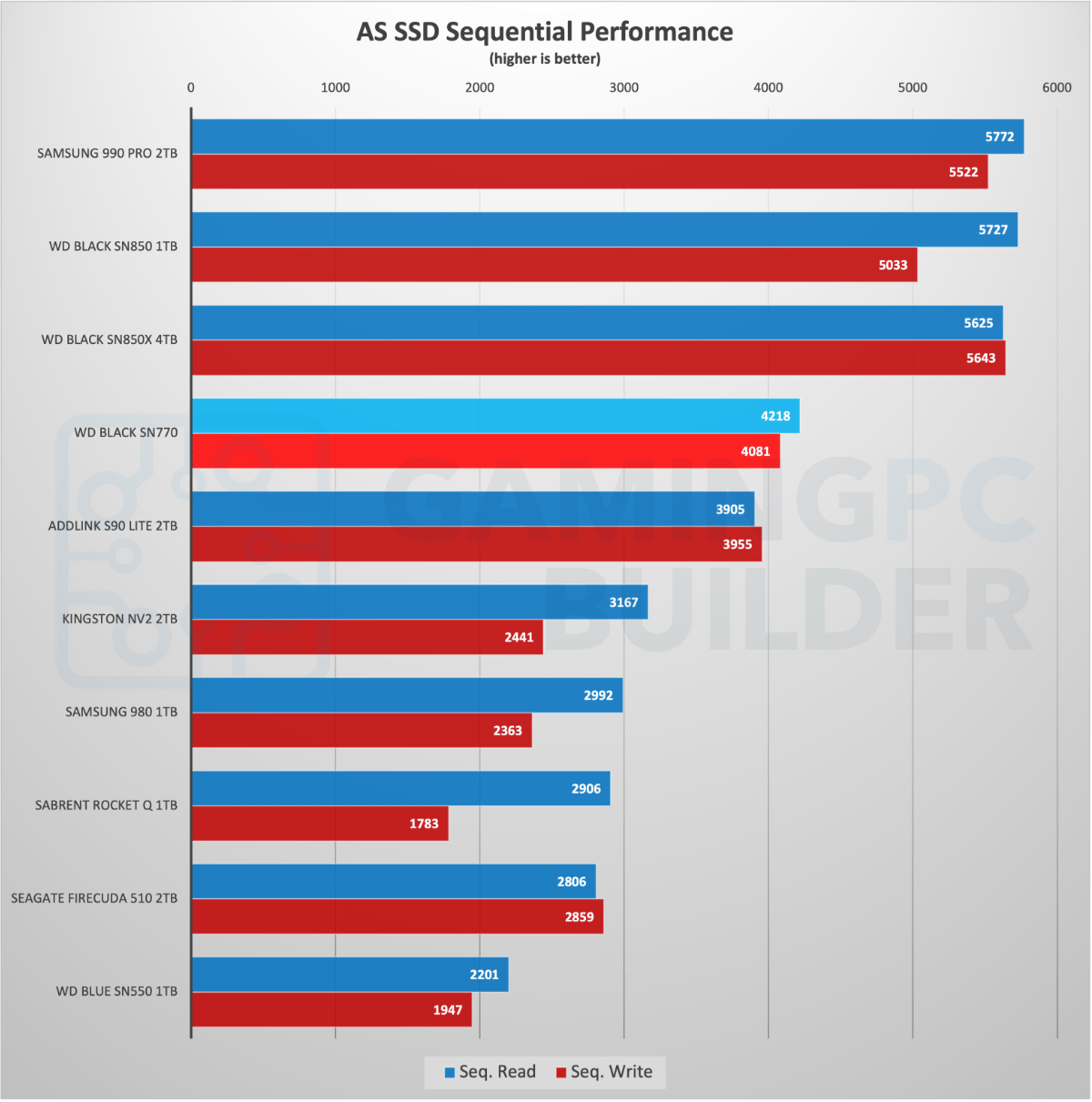 Sequential performance as measured by AS SSD is always lower than what you see in the marketing material, as it uses data that can't be further compressed by the SSD controller. Our 2TB WD Black SN770 is clearly unable to compete with the class-leading 990 PRO or SN850X here. It is nevertheless slightly faster than the (also DRAM-less) S90 Lite, which uses the Phison E21 controller.
CrystalDiskMark
A second look at sequential transfer rates in CrystalDiskMark reveals numbers that are entirely consistent with AS SSD, but much closer to the official specifications. In fact, the SN770 surpasses its own spec sheet by a small margin.
The opposite of sequential transfers would be small chunks of random data that aren't queued up. This often corresponds better with everyday use in the real world. Interestingly, the SN770 switches place with the Addlink S90 here.
Response Times/Latency (Anvil's Storage Utilities)
Latency is another metric that rarely gets the attention it deserves, as it can have a more noticeable effect on real-world workloads than maximum sequential speeds. The 2TB SN770 again comes in slightly behind the class leaders and its DRAM-less competitor.
Loading Times (PCMark 10, FF XIV, 3DMark)
In benchmarks that simulate various types of everyday real-world use, the differences between classes of SSDs often even out. Even a fast SATA SSD may not be far behind in certain situations.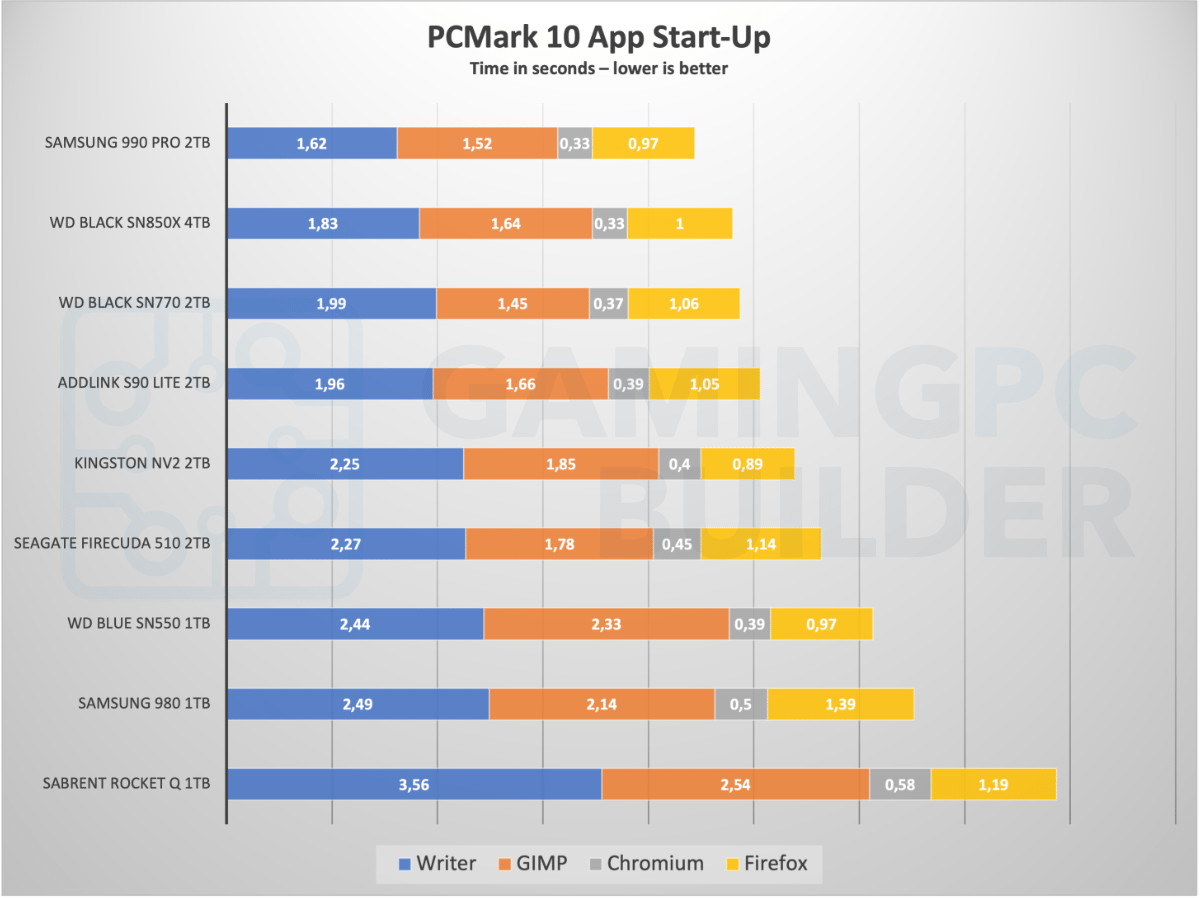 In a sub-test of PCMark 10 that measures start-up times for a range of office apps, it becomes apparent that the SN770 is fast enough to compete with the class leaders in the PCIe Gen4 space.
The Final Fantasy XIV: Shadowbringer standalone benchmark measures the loading time of five different game levels and combines them into a total. The SN770 is a bit less impressive here and again trades places with the Phison E21-based drive.
Lastly, the relatively new and entirely gaming-focused 3DMark Storage Benchmark tests everything from installing and moving game files, to level loading and game recording.
Conclusion: World-Class Price/Performance Ratio
It has been interesting to follow the evolution of DRAM-less SSDs. From being confined to the entry-level space, some of the more recent varieties like the WD Black SN770 and Addlink S90 Lite are getting close to the high-end leaders in typical user workloads.
If you are building a mid-range workstation or gaming PC on a limited budget, a 2TB SN770 would definitely be suitable as a primary system drive. Although its maximum sequential performance is not up there with the fastest Gen4 SSDs, it performs well where it counts.
Thanks to the drop in NAND prices, you can currently find a 2TB SN770 for as little as $100 today, which is an absolute bargain at this level of performance. This is also true for the Addlink S90 Lite and other Phison E21-based SSDs using TLC NAND, of course.
WD Black SN770 2TB
An affordable DRAM-less Gen4 SSD that performs well where it counts
PROS
Solid real-world performance
Excellent price
CONS
Lack of DRAM is still a limitation