Addlink S90 Lite 2TB Review
Gaming PC Builder is reader-supported. When using links on our site to make a purchase, we may earn an affiliate commission.
Suppose you have only been paying attention to flagship, high-end SSDs recently. In that case, you have been missing out on a welcome development in the industry: that of highly capable PCI-Express 4.0 (Gen4) drives entering the mainstream market at very attractive price points. This is made possible by modern Gen4 controllers from the likes of Phison or Silicon Motion, high-density NAND, and not least DRAM-less designs that utilize a host memory buffer (HMB) instead of physical DRAM on the drive's tiny M.2 PCB.
We recently looked at the 2TB Kingston NV2 – an entry-level Gen4 drive that uses a Silicon Motion SM2267XT controller to deliver performance on par with a high-end Gen3 SSD from previous generations. Today, the turn has come to the arguably more interesting Addlink S90 Lite, also in the increasingly relevant 2TB capacity. What makes it more interesting is primarily that it offers significantly better performance without the corresponding price increase.
As a result, it has the potential to be more suitable as an affordable primary system drive, or other more demanding use cases. Whether it lives up to this potential is what we intend to have a look at here using our usual set of benchmarks.
This review sample was kindly provided by Addlink.
Specifications
In Addlink's Gen4 lineup of M.2 SSDs, the S90 Lite slots in between the S92, which uses denser and cheaper QLC (quad-level cell) NAND, and the high-end, DRAM-equipped S95. The S90 Lite seeks to balance performance and value by offering faster and more durable TLC (triple-level cell) NAND, without adding the cost of DDR4 DRAM.
Addlink S90 Lite
Specifications
512GB
1TB
2TB
Form Factor
M.2 2280
M.2 2280
M.2 2280
Interface/
Protocol
PCIe 4.0 x4/
NVMe 1.4
PCIe 4.0 x4/
NVMe 1.4
PCIe 4.0 x4/
NVMe 1.4
Controller
Phison E21
Phison E21
Phison E21
DRAM
No
No
No
Memory
3D TLC
3D TLC
3D TLC
Sequential Read
5,000 MB/s
5,000 MB/s
5,000 MB/s
Sequential Write
3,500 MB/s
4,000 MB/s
4,400 MB/s
Random Read
N/A
N/A
N/A
Random Write
N/A
N/A
N/A
Endurance
? TBW
? TBW
? TBW
Warranty
5-Year
5-Year
5-Year
As is practically always the case, higher capacities equal better performance due to improved parallel throughput. Using the quad-channel Phison E21 controller, our 2TB review sample is slightly ahead of the 512GB and 1TB capacities and tops out at 5,000/4,400 MB/s as measured in maximum sequential performance. Random performance is not officially stated, but as per the specifications of the E21, it should be capable of up to 780K/800K IOPS read/write speeds.
The drive uses a single-sided layout and has no cumbersome heatsink, so it will fit in any laptop with a standard 2280 M.2 slot. Also important for mobile use cases is that the Phison E21 is reasonably frugal in terms of power consumption, using less than 2 mW in an idle state and averaging 4.6 W while active.
Addlink S90 Lite Benchmarks
With our expectations set, let's dive into the benchmark tests starting with the synthetics.
AS SSD
AS SSD is not known for producing overly consistent results, but the average of a few runs is a reasonably accurate indicator of how an SSD handles incompressible data. Considering that the S90 Lite is not targeting flagship performance, it does well and comes in ahead of all entry-level competitors. Of course, only the NV2 uses the same Gen4 interface, but the S90 Lite will also be competing with popular Gen3 drives like the Samsung 980 in the pricing department.
CrystalDiskMark
In CrystalDiskMark, we will start to see sequential transfer rates approach the stated maximums, and interestingly, the S90 Lite slightly exceeds its maximum sequential write specification of 4,400 MB/s.
The low queue depth, 4K data is however more indicative of real-world performance, and the drive does well in this regard also. Write speeds are even ahead of the far more expensive Samsung 990 PRO and the 4TB WD Black SN850X.
Response Times/Latency (Anvil's Storage Utilities)
Another key factor that affects real-world performance far more than maximum sequential performance is latency – as evidenced by Intel's discontinued Optane technology, which had much lower sequential throughput but still performed extremely well thanks to low latency. The S90 Lite again performs better here compared to other value-oriented SSDs. Full result:
Loading Times (PCMark 10, FF XIV)
Maximum sequential transfer rates are arguably more important for marketing departments than they are for most practical use cases. After all, real-world loading times are where you may actually notice the difference. Unfortunately, these are notoriously difficult to measure, but some benchmark tool sub-tests do a pretty good job of mimicking the real thing.
Addlink's 2TB S90 Lite is second only to the high-end Samsung 990 PRO and WD SN850X in the official Final Fantasy XIV Shadowbringers benchmark. Among other things, this tool collects performance data while loading five separate levels. As can be expected, these loading times do not correlate particularly well with the drives' theoretical max. transfer rates, but moving to the Gen4 interface from Gen3 seems to provide a clear advantage.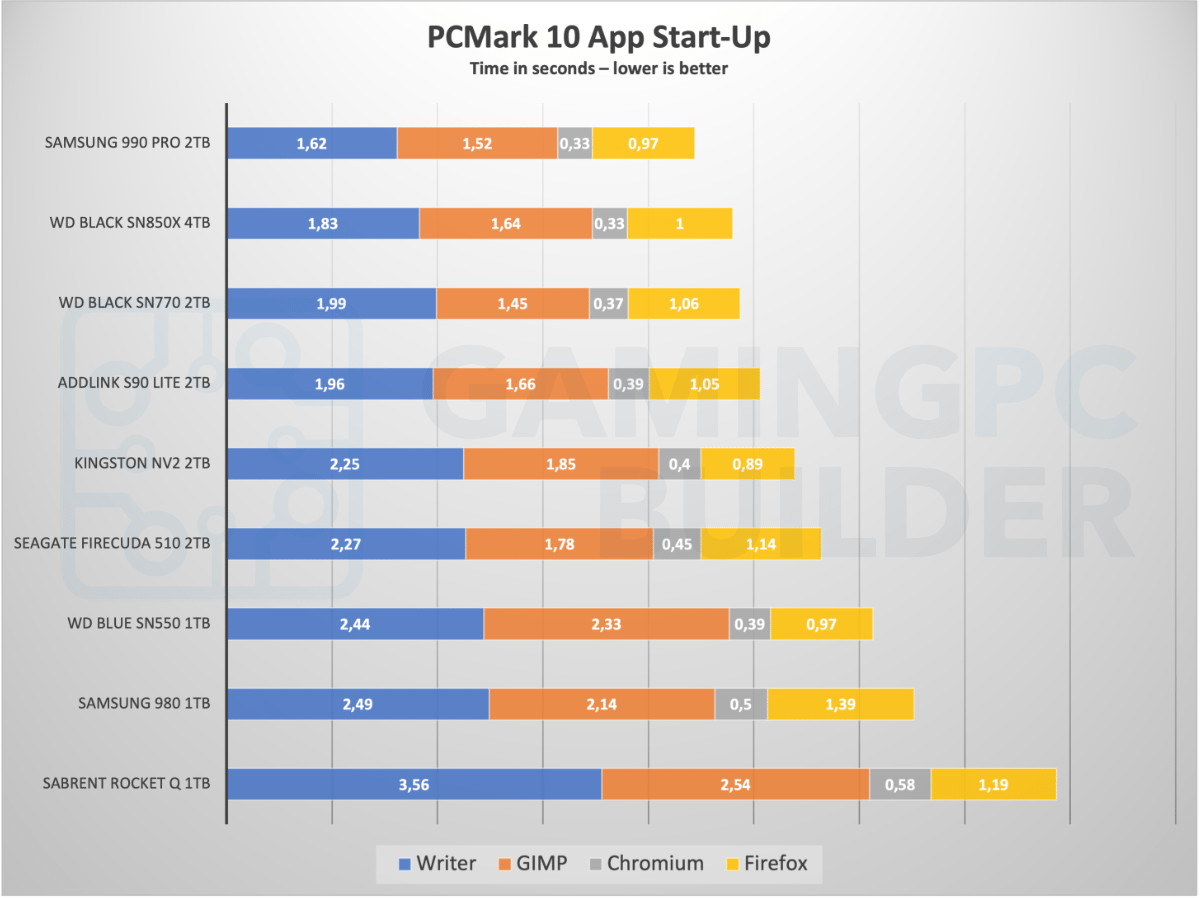 Our chosen data point from PCMark 10 is the "app start-up score" (cold start) subset of tests. Again, we see that the 2TB S90 Lite is not behind the high-end options in a way that would be noticeable in everyday use.
Last but not least, the more recent 3DMark Storage Benchmark is another tool that imitates a number of gaming-related workloads, including installation, game recording, saves, and loads. Note that the numbers here denote score and bandwidth, meaning that the S90 Lite continues the trend of being significantly ahead of lower-end SSDs.
Conclusion
SSD prices have dropped considerably in the past year, which is good news for anyone looking to build a new PC or upgrade their existing desktop/laptop with additional storage. The arrival of cost-effective DRAM-less designs has also helped bring 2TB-capacity Gen4 SSDs down to around the same prices as 1TB would cost not long ago. 
Performance and endurance still matter, however, and given a small price difference, it's usually worth spending a bit more on a drive that is faster and uses high-quality TLC NAND chips.
The 2TB Addlink S90 Lite ticks both of those boxes and looks well-suited for inclusion in a system focused on a good combination of value and performance. It doesn't sacrifice much compared to the fastest M.2 drives but has more to offer than just about any Gen3 drive (and also budget Gen4 SSDs like the NV2). Compared to the latter and other QLC-based drives, the S90 Lite could easily stand on its own as a system drive. Based on the characteristics of the Phison E21 controller, it should also do well in a Gen4-capable laptop.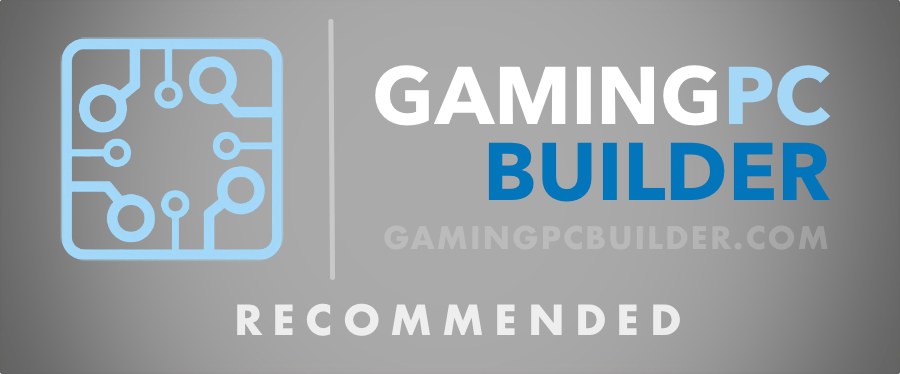 Good Gen4 performance for less
An affordable Gen4 NVMe SSD that outpaces other value-oriented alternatives on the market.
PROS
Superb value
Great real-world performance
TLC NAND