Seagate FireCuda 510 2TB Review
Gaming PC Builder is reader-supported. When using links on our site to make a purchase, we may earn an affiliate commission.
How does a DRAM-equipped M.2 SSD from the PCI-Express 3.0 generation compare with DRAM-less budget alternatives in 2023? This is an interesting question when NAND memory prices are at an all-time low and the cheapest Gen4 SSDs sell for just over $100 in spacious 2TB capacities.
So considering today's extremely competitive market, you may find yourself choosing between higher-end drives from the previous generation at around the same price as newer DRAM-less options – especially when capacity and value are key considerations.
Seagate's FireCuda 510 lineup was launched in 2019, and by no means as an entry-level SSD. In addition to a DDR4 buffer, these drives ship with high-quality TLC (triple-level cell) chips as opposed to the QLC (quad-level cell) memory often found in more recent low-end SSDs.
Specifications
Seagate FirecCuda 510
Specifications
2TB
1TB
500GB
250GB
Form Factor
M.2 2280
M.2 2280
M.2 2280
M.2 2280
Interface/
Protocol
PCIe 3.0 x4/
NVMe 1.3
PCIe 3.0 x4/
NVMe 1.3
PCIe 3.0 x4/
NVMe 1.3
PCIe 3.0 x4/
NVMe 1.3
Controller
Phison E12
Phison E12
Phison E12
Phison E12
DRAM
DDR4
DDR4
DDR4
DDR4
Memory
64-layer
3D TLC
64-layer
3D TLC
64-layer
3D TLC
64-layer
3D TLC
Sequential Read
3,450 MB/s
3,450 MB/s
3,450 MB/s
3,200 MB/s
Sequential Write
3,200 MB/s
3,100 MB/s
2,500 MB/s
1,300 MB/s
Random Read
620K IOPS
620K IOPS
420K IOPS
210K IOPS
Random Write
600K IOPS
600K IOPS
600K IOPS
320K IOPS
Endurance
2,600 TBW
1,300 TBW
650 TBW
300 TBW
Warranty
5-Year
5-Year
5-Year
5-Year
As usual, you get better performance as capacity increases, although the differences between the largest 2TB capacity that we are looking at today and the 1TB model are quite insignificant. What remains important though – especially with regard to the competition – is the endurance rating, which is a very impressive 2,600 TWB (terabytes written). This means that a 2TB FireCuda 510 will almost certainly last for the lifetime (and then some) of an average consumer PC.
One potentially less positive aspect worth noting is that the 2TB FireCuda 510 is dual-sided, with memory chips on both sides of the PCB. This should not be a problem with desktop motherboards, but it is not guaranteed to fit in certain thin laptops, for example.
Seagate FireCuda 510 2TB Benchmarks
Now to compare the 2TB FireCuda with some Gen3 and more recent Gen4 competitors in our usual range of benchmarks.
AS SSD
The above table is sorted by sequential read performance, but it's worth noting that the FireCuda 510 is ahead of other Gen3 drives when it comes to sequential writes (as well as random write performance at high queue depths). Then again, AS SSD does not produce overly consistent results, and low queue depth random data typically has more to say about real-world performance.
CrystalDiskMark
CrystalDiskMark seems to confirm that sequential write performance is very good compared to other previous-gen SSDs. This is somewhat unexpected, seeing as this drive (much like virtually all others) is rated as being slightly faster in the read performance area.
Random performance at low queue depths is more interesting data as it correlates more with real-world use. The FireCuda's write performance is far ahead of the drives that lack DRAM and it even competes with far more expensive Gen4 drives like the 4TB WD Black SN850X (albeit in one single area).
Response Times/Latency (Anvil's Storage Utilities)
As seen with Intel's (unfortunately discontinued) Optane SSD lineup, latency is a much more important metric than sequential transfers for predicting perceived real-world performance. The data from Anvil's Storage Utilities insists on placing high-end Gen4 M.2 SSDs ahead of their Gen3 counterparts in general, although the FireCuda 510 compares quite favorably to the latter.
Real-World Performance (PCMark 10, FF XIV, 3DMark)
Synthetic benchmarks are useful for comparing the theoretical limits of various SSDs, but those that mirror real-world scenarios (e.g. loading apps and games) are obviously more interesting from an end-user perspective. This is, after all, where you may actually notice a difference in terms of overall speed and responsiveness.
FF XIV Shadowbringers Loading Times
Square's Final Fantasy Shadowbringers benchmark was created to help users determine how well their system is able to run the game. Other than frame rates, it also measures down to the millisecond how long its five included levels take to load. These times are combined to a total, as listed above. Any SSD is at least twice as fast as our included 7,200 rpm desktop hard drive, but the difference between SSDs is much less dramatic (even compared to the fastest SATA alternatives).
The Seagate FireCuda nevertheless manages to shave off about half a second from the total loading time versus the 2TB Kingston NV2, which is a budget Gen4 drive. It is also noticeably ahead of the Gen3 DRAMless WD Blue SN550 and Samsung 980 (non-PRO).
PCMark 10 App Start-up Times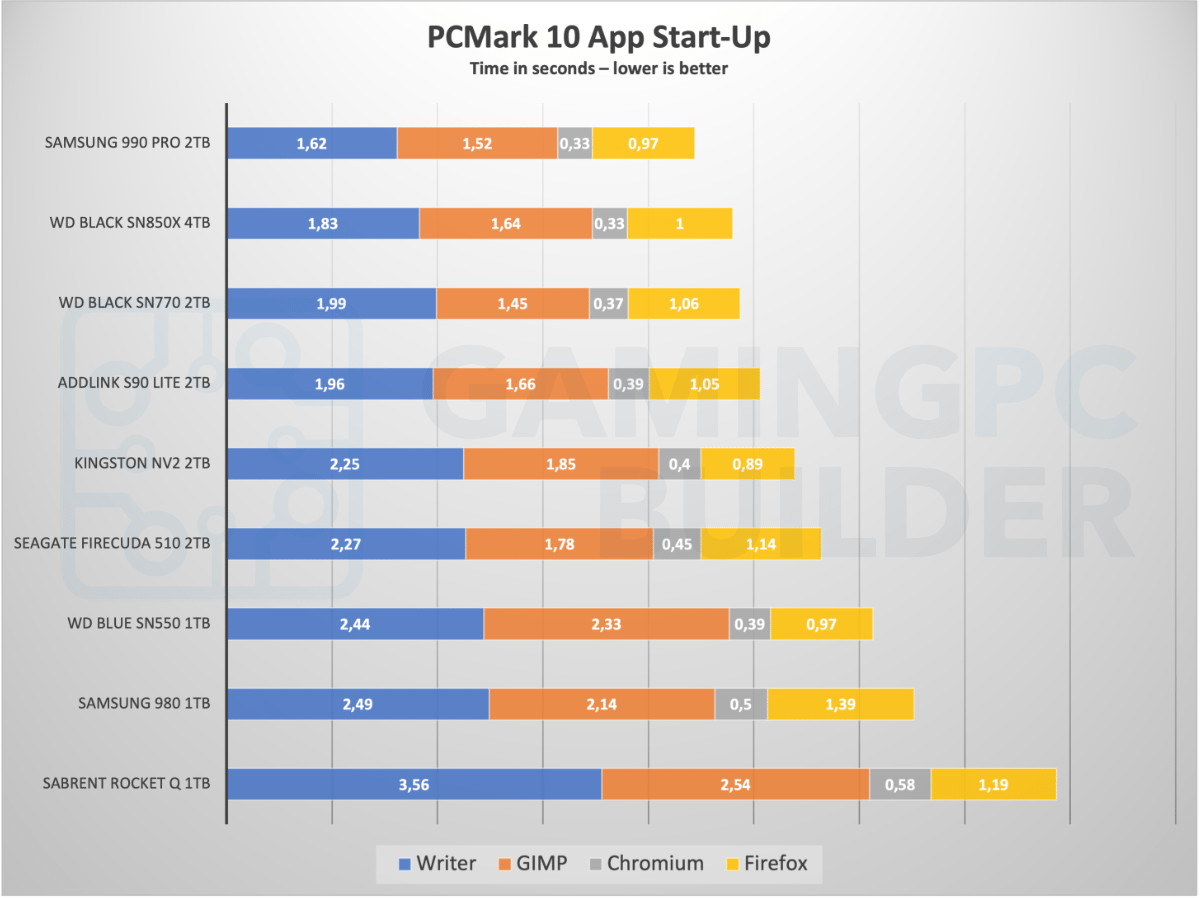 Start-up times for the apps included in the PCMark 10 benchmark suite show a similar pattern as the above-mentioned game levels. The differences here are even more marginal though, due to the apps' smaller footprints. Our 2TB FireCuda 510 is roughly on par with the NV2 but not fast enough to challenge Addlink's Phison E21-based S90 Lite.
3DMark Storage Benchmark
3DMark is probably the most popular gaming benchmark by far, with a history stretching all the way back to the Windows 95/98 era. The Storage benchmark is a recent addition that measures various gaming loads such as installing, loading, and copying game files. The FireCuda 510 is slower than all drives we have included in this chart to date, which are admittedly mostly Gen4 SSDs.
Conclusion: Still good in 2023, but there are now better options
The key takeaway from our experience with the Seagate Firecuda 510 2TB is probably that it performs about as expected. As a DRAM-equipped drive from the PCI-Express 3.0 generation, it's slightly faster than its DRAM-less competitors for the most part. It can also sometimes outperform entry-level DRAM-less Gen4 drives such as the Kingston NV2 but not mainstream models like the S90 Lite.
It no longer makes much sense to buy a FireCuda 510 for use as a system drive in a mid-range or better gaming PC in 2023 – especially since more recent DRAM-less drives are often both cheaper and faster these days. For older Gen3 systems, however, it may be an attractive option depending on the price. The same goes for use as secondary storage in newer builds. It does offer very solid performance on the older interface, as well as endurance ratings that you rarely see in newer entry-level models.
Seagate FireCuda 510 2TB
A premium Gen3 PCIe/NVMe SSD that mostly stands the test of time, offering performance on par with older high-end drives.
PROS
Solid Gen3 performance
Great endurance rating
On-board DDR4 DRAM
CONS
NAND on both sides of the PCB
Usually too expensive