WD Black SN850X 4TB Review
Gaming PC Builder is reader-supported. When using links on our site to make a purchase, we may earn an affiliate commission.
High-end SSDs in large capacities are still somewhat rare. There is still no 4TB model of the Samsung 990 Pro, to name one of many examples. But thanks to declining NAND flash memory prices, those that you can find are no longer as prohibitively expensive as they used to be.
A case in point is the 4 TB WD Black SN850X that we will take a closer look at today. Its MSRP at launch was a steep $699. Today, it sells for less than half of that online, which makes it far more tempting to gamers, creators, and everyone else who values lots of ultra-fast storage space.
Specifications
WD Black SN850X
Specifications
1TB
2TB
4TB
Form Factor
M.2 2280
M.2 2280
M.2 2280
Interface/
Protocol
PCIe 4.0 x4/
NVMe 1.4
PCIe 4.0 x4/
NVMe 1.4
PCIe 4.0 x4/
NVMe 1.4
Controller
Proprietary
8-channel
Proprietary
8-channel
Proprietary
8-channel
DRAM
LPDDR4
LPDDR4
LPDDR4
Memory
112-layer
BiCS5 TLC
112-layer
BiCS5 TLC
112-layer
BiCS5 TLC
Sequential Read
7,300 MB/s
7,300 MB/s
7,300 MB/s
Sequential Write
6,300 MB/s
6,600 MB/s
6,600 MB/s
Random Read
800K IOPS
1.2M IOPS
1.2M IOPS
Random Write
1.1M IOPS
1.1M IOPS
1.1M IOPS
Endurance
600 TBW
1,200 TBW
2,400 TBW
Warranty
5-Year
5-Year
5-Year
SSD performance nearly always increases along with the capacity, but only to an extent. The 2TB and 4TB versions of the WD Black SN850X come with identical sequential and random performance specs. That does not change the fact that the SN850X is among the fastest SSDs in the PCI-Express 4.0 (Gen4) space, which is where most users will remain for years to come.
This WD Black SN850X is an update of the SN850 and Western Digital's flagship M.2 SSD for consumers as of mid-2023. Its maximum sequential performance very nearly maxes out the bandwidth of the Gen4 interface, and random IOPS performance – a better proxy of real-world performance – is also quite exceptional. Only a handful of Gen4 SSDs are significantly above 1M IOPS on paper.
Note that the 4TB model of the SN850X is double-sided with NAND chips on both sides of the drive (pictured), which may or may not be an issue when installing it in a laptop or other small form factor device. It reportedly fits in the PS5 console, however.
With that introduction out of the way, it's time to look at some data.
WD Black SN850X 4TB: Benchmarks
Note that our 4TB WD Black SN850X is a retail sample and was not provided by the manufacturer. Our test system consists of an MSI Z790 Carbon, Core i7-13700KF, and 32 GB of DDR5-6000.
AS SSD
AS SSD uses incompressible data when testing sequential transfer rates, which typically results in a significant reduction versus theoretical maximum performance. The WD Black SN850X 4TB is nevertheless proficient in this department and the fastest drive we have tested to date in the sequential write area.
CrystalDiskMark
In CrystalDiskMark, sequential performance closes in on the advertised maximums (and the limits of the PCIe 4.0 interface), and the 4TB SN850X is also close to the class-leading 990 PRO (2TB).
Transfer rates for random 4K data at a minimum queue depth often correspond better with real-world performance. This has been more of a mixed bag in our test runs, with e.g. DRAM-less mainstream SSD like the Addlink S90 Lite performing exceptionally well.
Response Times/Latency (Anvil's Storage Utilities)
Respons times/latency is another underrated indicator of real-world performance, as seen with Intel's discontinued Optane lineup. For these numbers, we use Anvil's Storage Utilities. There are some outliers here as well, but it follows the pattern of the WD Black SN850X 4TB being second only to the Samsung flagship.
Loading Times (PCMark 10, FF XIV, 3DMark)
To simulate workloads from the real world, we use a number of tools that do precisely this.
PCMark 10 includes a few sub-tests that measure start-up times for Writer (OpenOffice), GIMP, Chromium, and Firefox. Oddly enough, the 4TB SN850X comes in slightly behind not only the 990 PRO but also its 1TB-capacity predecessor. Of course, the actual differences are not in a noticeable range.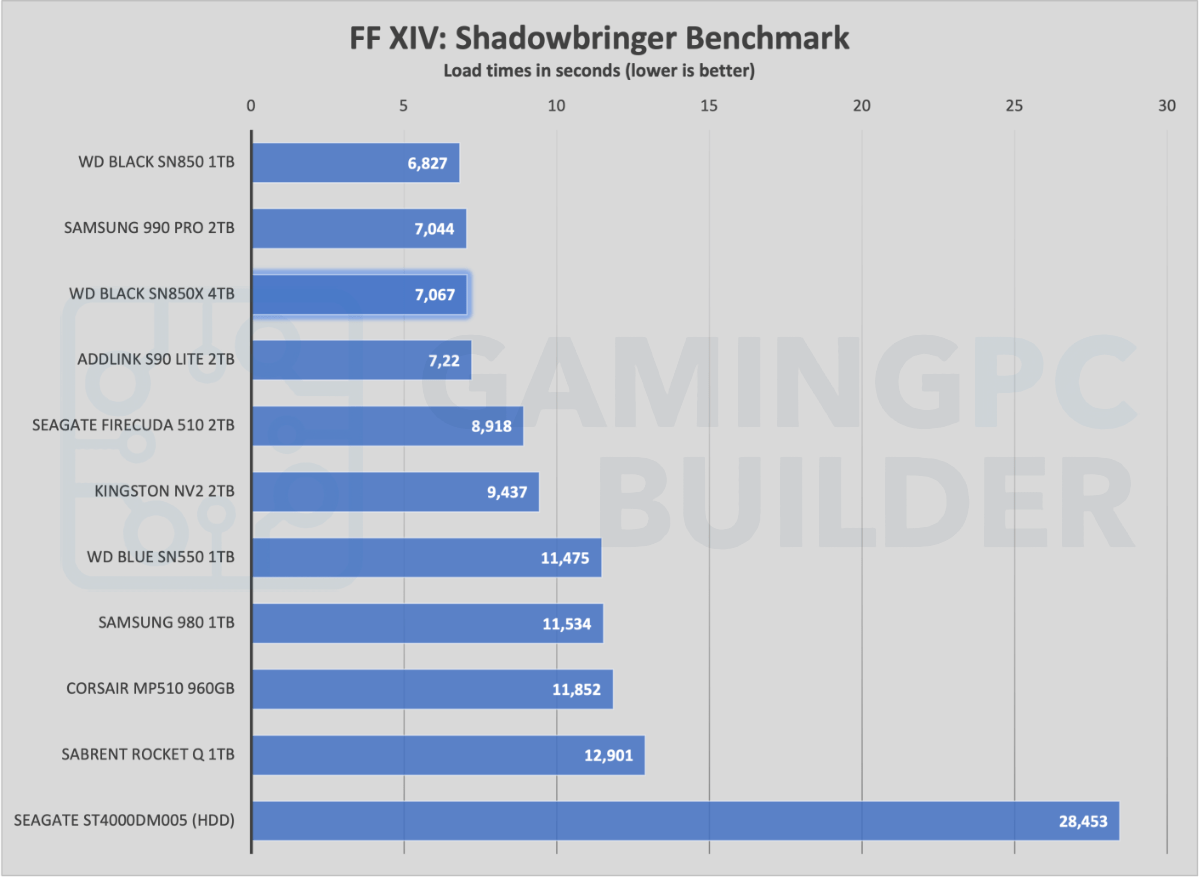 The standalone benchmark for Final Fantasy XIV: Shadowbringer includes data on loading five different levels of the game, which are combined into a total presented above. Any M.2 SSD is evidently at least twice as fast as a conventional (3,5″) hard drive, but the fastest ones load the game levels in only a quarter of the time.
3DMark's Storage Benchmark includes a mix of game-level loading, copying, moving, and installing games, as well as game recording. View the full details of this run here. The overall impression is that the 4TB WD Black SN850X looks like a solid device to store your Steam library on.
Conclusion: Leading Performance and Value
At its original $699 MSRP, the 4TB version of the WD Black SN850X was a pricey upgrade that would likely have to compete with the GPU for your gaming PC budget. But with the price cut in half thanks to cheaper NAND, this high-end, high-capacity SSD has become far more interesting.
The SN850X is still among the speediest M.2 NVMe drives overall in mid-2023 and you can currently get it for about the price of a 2TB Gen5 SSD. Even if you have access to one of the latest platforms with a PCI-Express 5.0 M.2 slot, most real-world performance data will tell you that the 4TB SN850X offers better value.
WD Black SN850X 4TB
A very fast Gen4 SSD that currently offers exceptional value
PROS
Flagship-class performance
Excellent street price