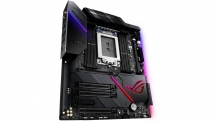 Top TRX40 Motherboards For 3rd-Gen Threadripper CPUs
Gaming PC Builder is reader-supported. When using links on our site to make a purchase, we may earn an affiliate commission.
The new 3rd-generation AMD Threadripper CPUs will be out soon – and if you're going to build a bona fide HEDT (High-End Desktop) system using one of these CPUs, then you are going to need a new motherboard. The latest Threadrippers use the new sTRX4 socket, so if you currently have an X399 motherboard you are unfortunately out of luck. Three brand new chipsets are also in the cards, namely the TRX40, TRX80, and WRX80. All of the initial boards use the TRX40 though.
The new CPUs are based on the 7nm process and support PCIe 4.0 in combination with the new chipset. This means that you can take advantage of the higher bandwidth that this standard has to offer (this is also the main selling point of the X570 platform). You will have no shortage of cores with either the 3960X that comes with 24 cores and 48 threads, or the 3970X that comes with 32 cores and 64 threads.
With the new TRX40 motherboards for Threadripper users can take advantage of four times the bandwidth as compared to the previous versions. You also get plenty of I/O including 12x 10 Gbps ports. These are some of the advantages of switching to the new Threadripper CPUs.
If you are interested in getting the 3rd-generation Threadripper CPUs then here we have looked at some of the most interesting TRX40 motherboards that you will want to consider when building a new system. The platform is not available just yet and no 3rd-party tests or reviews are available. So, for now, we are basing this roundup on specs and feature sets. We will update this page as soon as we have more information.
Best TRX40 Motherboards For 3rd Generation AMD Threadripper Processors
The following are some of the most interesting TRX motherboards that you'll shortly be able to get your hands on.
Asus ROG Zenith II Extreme (Possibly the Best High-end Motherboard)
Asus is known for making some of the best high-end motherboards on the market. So, it's no surprise that we are starting off our roundup with the ROG Zenith II Extreme. This is an attractive motherboard that comes features eight RAM slots (four channels) and four PCIe x16 slots for multiple graphics cards and PCIe-based storage solutions. You can use the latest SSDs and GPUs that can utilize a PCIe 4.0 interface.
Other than that, you also get five M.2 slots for high-speed storage devices. If that is not enough then you also have eight SATA 6 ports for HDDs or SSDs. In terms of connectivity, you get an Aquantia ACQ-107 10G Ethernet port, a 1Gbps LAN port, Wi-Fi 6 (802.11ax) and Bluetooth 5. The 16-phase VRM is also up for the task of powering the new Threadrippers.
This motherboard is ideal for CAD users and artists. This is an Asus motherboard so you get all kinds of features such as RGB lighting. You can sync the lighting with other RGB products like graphics cards and peripherals and support the feature. If you already have Asus products then this is going to be an ideal fit for your build.
Pros:
Eight SATA 6gbps ports
Five M.2 slots
Aquantia ACQ-107 10G Ethernet port
Asus armor and design
Aura RGB lighting
Bluetooth 5
Cons:
All things considered, this is a top-of-the-line option that comes with plenty of ports for storage and fast Ethernet for connectivity. You also get the latest Wi-Fi standard if you prefer a wireless connection. All things considered, it is safe to say that this is one of the best TRX40 motherboards that you can buy for the 3rd generation of AMD Threadripper CPUs.
MSI Creator TRX40 (Best For Creators?)
The next TRX40 motherboard is from MSI. Like the aforementioned board, this one has a 16-phase power design, making it capable of supporting the 3970X and 3960X. Like all the boards on this list, the Creator TRX40 comes with 10GbE LAN, 1Gbps LAN connectivity and Wi-Fi 6.
For storage, you get 3 M.2 slots and 6 SATA ports for SSDs and HDDs. The motherboard also features 8 RAM slots. The motherboard has a unique design and plenty of armor all over it. The color scheme is subtle and it should blend in well with the rest of your build. The RGB lighting is subtle too. All these features do come at a cost and this is in no way an inexpensive option. All TRX40 motherboards are expensive indeed and the MSI Creator model is no exception.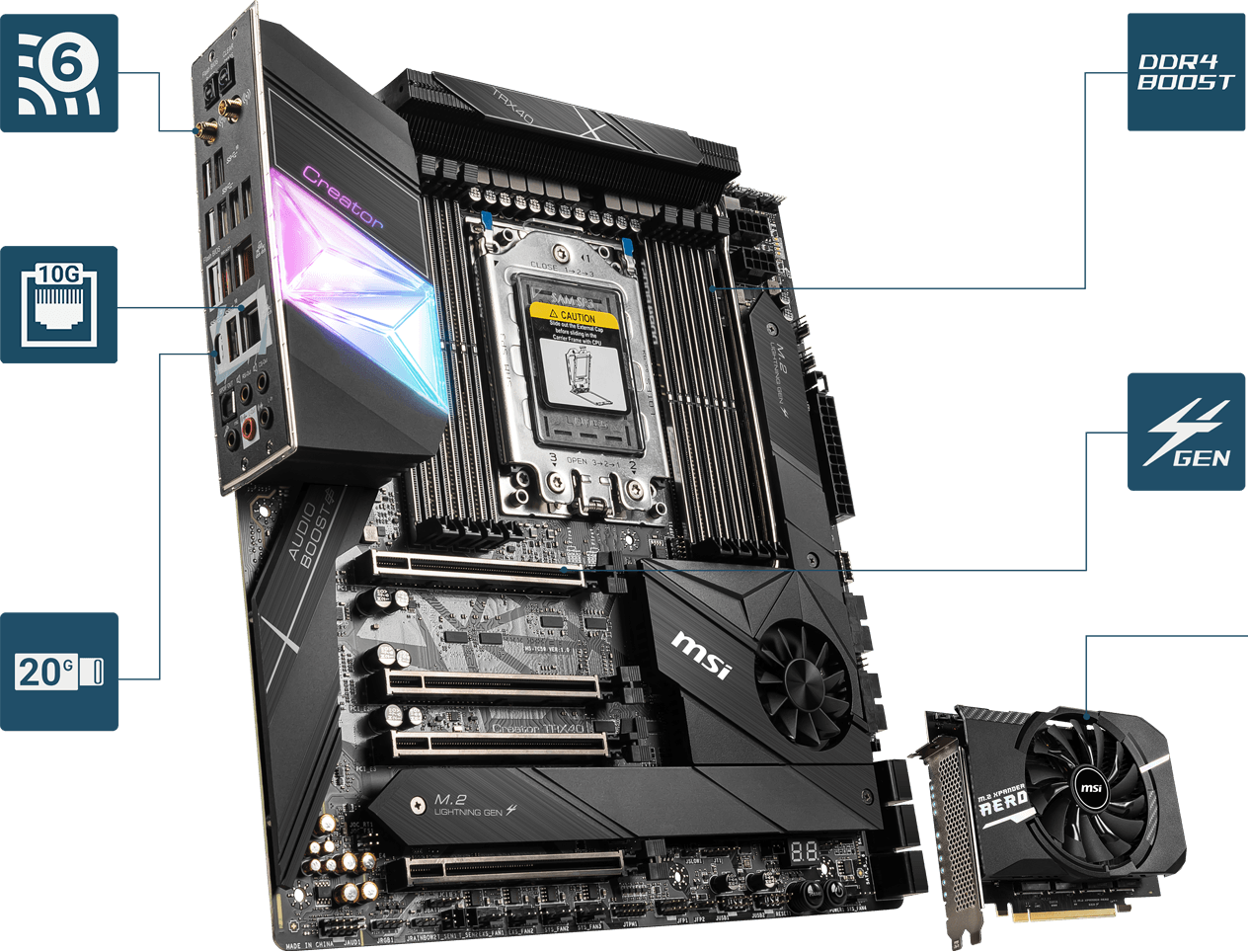 Interestingly, you can use the M.2 Xpander-Aero with this motherboard in order to get 4 additional M.2 slots if you need them. This motherboard is recommended for people that create content and need something that performs well and looks the part as well.
One of the drawbacks of this motherboard is that there is a fan on the chipset to keep it cool. While that is great for cooling and keeping the thermals in check, replacing this fan can be a bit tricky depending on where you live and the kind of customer support that you have.
Pros:
10GbE LAN
1Gbps LAN connectivity
Wi-Fi 6
Four PCIe x16 slots
Three M.2 slots
Six SATA 6Gbps ports
16-phase power design
Supports M.2 Xpander-Aero
Cons:
All things considered, the TRX40 motherboard is a premium motherboard with a premium price. The high cost does mean that you get a motherboard that is not only able to support higher core-count CPUs properly but also brings lots of premium features to the table.
Gigabyte TRX40 Aorus Xtreme (Premium Alternative)
Aorus is the premium brand from Gigabyte and the TRX40 Aorus Xtreme is the top of the line TRX40 motherboard that the company has to offer right now. This is a high-end motherboard and it is covered all over with armor. Some would say that it's overkill but others might like this look. The design is sleek and should blend in well with the rest of your build.
The motherboard has a 16+3 power design which makes it ideal for the latest line of Threadrippers. It also features 8 RAM slots, 4 PCIe x16 slots, 4 M.2 slots, and 10 SATA 6Gbps ports. Like the Asus motherboard, this one comes with Wi-Fi 6 and Bluetooth 5 for wireless connectivity.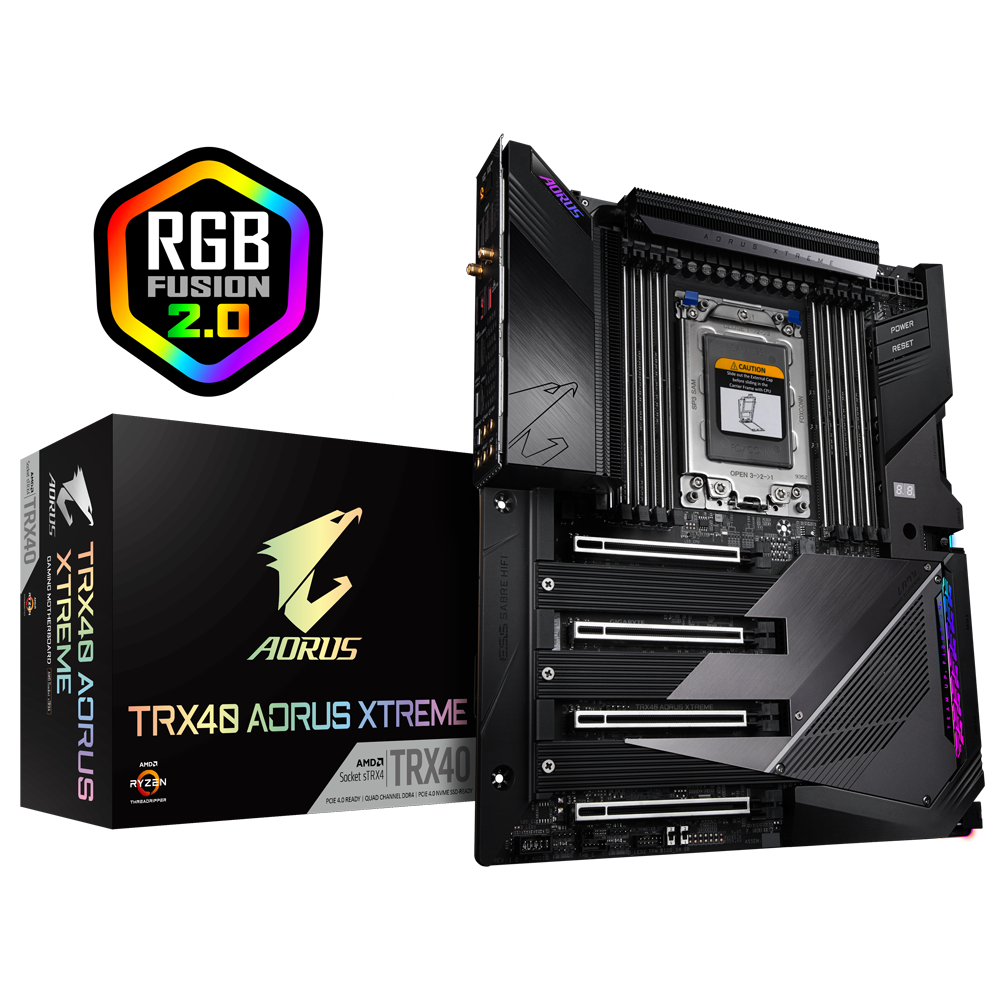 Just like the front, there is plenty of armor on the back as well. You also get RGB lighting which can be synced with other supporting parts and peripherals. The PCIe slots and RAM slots are reinforced for better GPU support and durability.
Pros:
16+3 power design
4 M.2 slots
10 SATA 6Gbps ports
Onboard power and reset buttons
Cons:
Very expensive
Chipset fan
The Gigabyte TRX40 Aorus Xtreme is one of the most premium motherboards on the market for the 3rd generation of Threadripper CPUs. It comes with all the features that you are going to need but much like the others, it does cost a lot.
ASRock TRX40 Taichi
As per usual, ASRock will offer a premium Taichi board for the new HEDT platform. The design is similar to the X570 Taichi and features a Black and Silver theme. The motherboard has plenty of armor and the heatsinks match the overall design of the motherboard.
The motherboard has a 16-phase power design which is practically a necessity for these high-end CPUs. Its Black capacitors match the aesthetic of the motherboard and it should go well with the rest of your build. The CPU is powered by a pair of 8-pin power connectors in order to provide enough juice to the CPU socket.
The chipset has two cooling fans to keep the thermals of the chipset in check. These should be great for cooling but these are additional moving parts that may fail eventually. Replacing them can be tricky depending on the kind of customer support you have available in your country. On the other hand, this appears to be very common with PCIe 4.0 motherboards.
Additionally, the board features Wi-Fi 6 for fast internet speeds. It supports Hyper Quad M.2 Card for four additional M.2 slots which can be used for storage expansion. All these features make this TRX40 motherboard great for 3rd generation Threadripper CPUs. It even comes with a BIOS flashback button in case something goes wrong.
Pros:
Hyper Quad M.2 Card support
Impressive expansion options
16 phase power design
2 M.2 slots
Supports Purity Sound 4 & DTS Connect
Cons:
Very expensive
Chipset fan
All things considered, this looks like a superb motherboard to pair with a 3rd-gen Threadripper. It looks great and most likely performs well. There is plenty of armor and cooling on the motherboard to keep the thermals in check. If you like ASRock motherboards then this is probably a great TRX40 option.
Asus ROG STRIX TRX40-E Gaming
Here's another kick-ass motherboard from Asus. This may not be the most sophisticated model, but it looks impressive overall. As it's an Asus product, you get the usual great looks with gaming-oriented RGB lighting. The motherboard has 16 power stages and dual 8-pin power connectors for the CPU.
Moreover, it features a large heatsink and a fan for cooling the VRM. The board's 8 RAM slots support 4400+ MHz OC speeds. It has three M.2 slots, two of which are hidden beneath the massive heatsink and get cooled from the fan. You also get plenty of connectors for storage.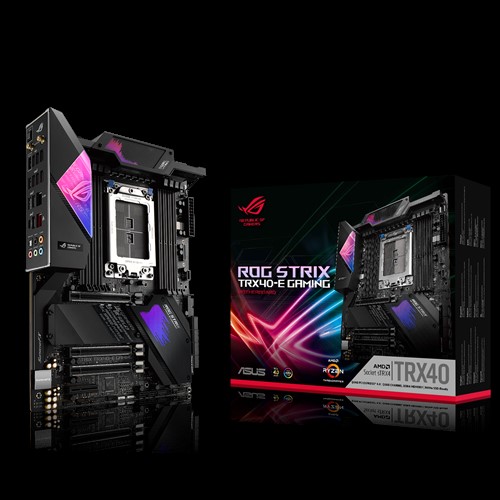 The Strix comes with Wi-Fi 6 and also has an onboard OLED that can be customized, and a premounted I/O shield for easy installation. It is DIY friendly and ideal for people that want to build their own PCs. The downside here is that yet again there is a fan onboard the motherboard which might be prone to failure over time.
Pros:
16 power stages
Wi-Fi 6
Plenty of USB ports
Impressive expansion options
A bit cheaper than other motherboards
Cons:
The Asus ROG STRIX TRX40-E is a bit more affordable than the other models that we have looked at on this list but it still offers great performance and ideal I/O. There are plenty of personalization options that stay true to the Asus brand.
Gigabyte TRX40 Aorus Master
Here we have another motherboard from Gigabyte – the TRX40 Aorus Master. The design and color scheme of the board is similar to other Gigabyte motherboards that we've seen. It features 8 RAM slots and supports 4400+ MHz memory in quad-channel. It has a 16+3 phase VRM that should be more than capable of handling the Threadripper 3000 CPUs.
For blazing-fast Internet speeds, you get AQUANTIA 5GbE LAN and Intel GbE LAN with cFosSpeed but if you are interested in a wireless connection then you also get Wi-Fi 6. The motherboard features 4 M.2 slots and each of them comes with a heatsink. The motherboard even comes with USB TurboCharger for fast charging of mobile devices.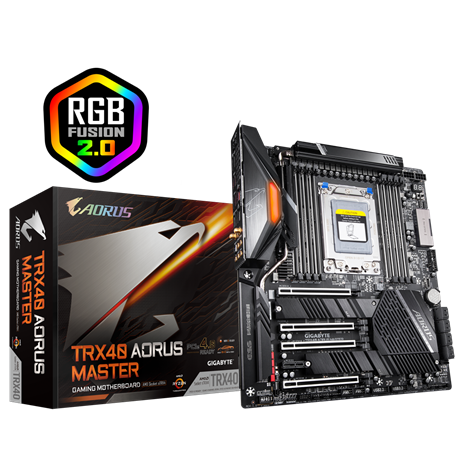 This is a high-end Gigabyte motherboard so you get RGB FUSION 2.0 in different zones of the motherboard and you get RGB headers for syncing the lighting effects with other supporting parts and peripherals. The Q-Flash Plus feature allows the user to update the BIOS without installing a CPU, GPU or RAM. This can come in handy in many situations.
Pros:
AQUANTIA 5GbE LAN
Intel GbE LAN with cFosSpeed
4 M.2 Slots
Wi-Fi 6
Front & Rear USB 3.2 Gen 2 Type-C Header
Q-Flash Plus feature
Cons:
Onboard fan
Design is very similar to older models
The TRX40 Aorus Master comes with all the bells and whistles that you can ask for in a high-end motherboard. It is ideal for content creators that need the extra I/O along with the extra cores and threads. The design is similar to the older Gigabyte motherboards but that might not be a bad thing for most people.
Affordable Alternative: Asus Prime TRX40-Pro
The Asus Prime TRX40 Pro is aimed at people that need multiple cores and threads for tasks like video editing. The motherboard has a relatively clean look as compared to other motherboards on this list. It comes in white. So if you are interested in building a white PC then this is an ideal choice to pick.
It comes with an integrated I/O shield for easy installation and like all the other motherboards on this list, this one comes with 8 RAM slots and support for 4400+ MHz RAM. The VRMs are cooled properly with heatsinks and there is an active cooling fan on the chipset as well. While this is great for keeping the thermals in check, it is worth mentioning that this is a mechanical part that can stop working eventually.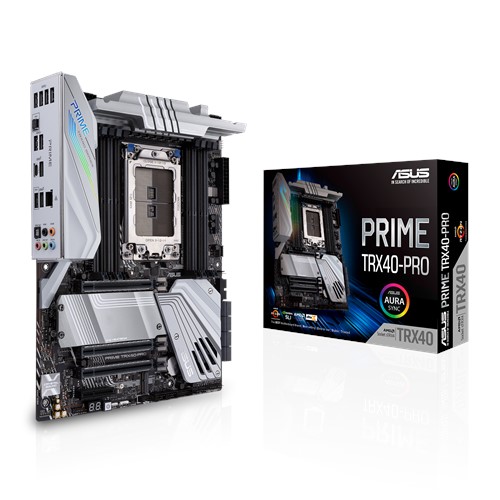 The motherboard features 16 power stages, RGB lighting, and 5-way optimization software. It also comes with three M.2 slots for fast storage and PCIe 4.0 for graphics cards and other PCIe based cards. Even though this motherboard does not have Wi-Fi you still get Intel Gigabit Ethernet. The Asus Prime TRX40 Pro comes with all the ports that you are going to need including USB Type-C.
Pros:
Integrated I/O shield
Proper VRM cooling
16 power stages
Intel Gigabit Ethernet
3 M.2 Slots
Cons:
Although no Threadripper system can really be called affordable, the Asus Prime TRX40 Pro is comparatively cheap compared to the other motherboards on this list. It does not come with onboard Wi-Fi or ultra-fast wired LAN, but far from everyone will be able to utilize 10 GbE anyway. In other words, there is probably not much that you will miss out on with this motherboard.
These are the most interesting TRX40 motherboards for AMD's Threadripper gen 3 that we've seen so far. As mentioned, we will update this page as more information becomes available, so you are welcome to check back shortly.