Kingston Fury Renegade 2TB Review
Gaming PC Builder is reader-supported. When using links on our site to make a purchase, we may earn an affiliate commission.
Kingston's Fury Renegade is a 2023 updated version of the KC3000 SSD from 2021. It uses the same Phison E18 controller, fast 176-layer TLC NAND circuitry, and a DDR4 DRAM buffer as the KC3000. However, Kingston has managed to squeeze some additional sequential performance out of this hardware to better compete with the likes of Samsung's more recent 990 PRO and WD's SN850X. Thanks to a variant with a preinstalled heatsink, it also meets Sony's requirements for a PS5 storage expansion.
This review will examine whether this revised Phison E18 model can now challenge the best of the best in the high-end PCIe 4.0 space.
Specifications
Kingston
Fury Renegade 2TB
Kingston
KC3000 2TB
Form Factor
M.2 2280
M.2 2280
Interface / Protocol
PCIe 4.0 x4 / NVMe 1.4
PCIe 4.0 x4 / NVMe 1.4
Controller
Phison E18
Phison E18
DRAM
2 GB DDR4-2666
2 GB DDR4-2666
Memory
176-Layer TLC
176-Layer TLC
Sequential Read
7,300 MB/s
7,000 MB/s
Sequential Write
7,000 MB/s
7,000 MB/s
Random Read
1M IOPS
1M IOPS
Random Write
1M IOPS
1M IOPS
Endurance
2,000 TBW
1,600 TBW
Warranty
5 Years
5 Years
Latest Price*
$134.34
$121.98
Shopping Links
Amazon
Newegg
Amazon
Newegg
As it uses the same fundamental parts, the Fury Renegade will by no means differ dramatically from its KC3000 predecessor. In terms of performance, the only noticeable difference in the spec sheet is that the maximum sequential read rate for the 2TB model is up from an already-high 7,000 MB/s to 7,300 MB/s.
Random performance still falls behind the Samsung 990 PRO and WD_Black SN850X, which both substantially exceed one million IOPS. The 1TB capacity is slightly slower, whereas the larger 4TB model is on par with the 2TB capacity that we are looking at today.  
The Furu Renegade does have one more advantage compared to the KC3000, however, in the form of a higher endurance rating. It's not clear if this has to do with additional NAND overprovisioning, but 2,000 TBW is above the industry average even in the high-end space.
Another detail worth noting for system builders and upgraders is that the 2TB Fury Renegade is double-sided. Standard PC motherboards can generally accommodate M.2 SSDs with NAND chips on both sides, but they might be a tight fit in certain laptops and other small form-factor devices.
Fury Renegade 2TB: Benchmarks
Our 2TB Kingston Fury Renegade is a retail sample and was not provided by the manufacturer for the purpose of this review.
AS SSD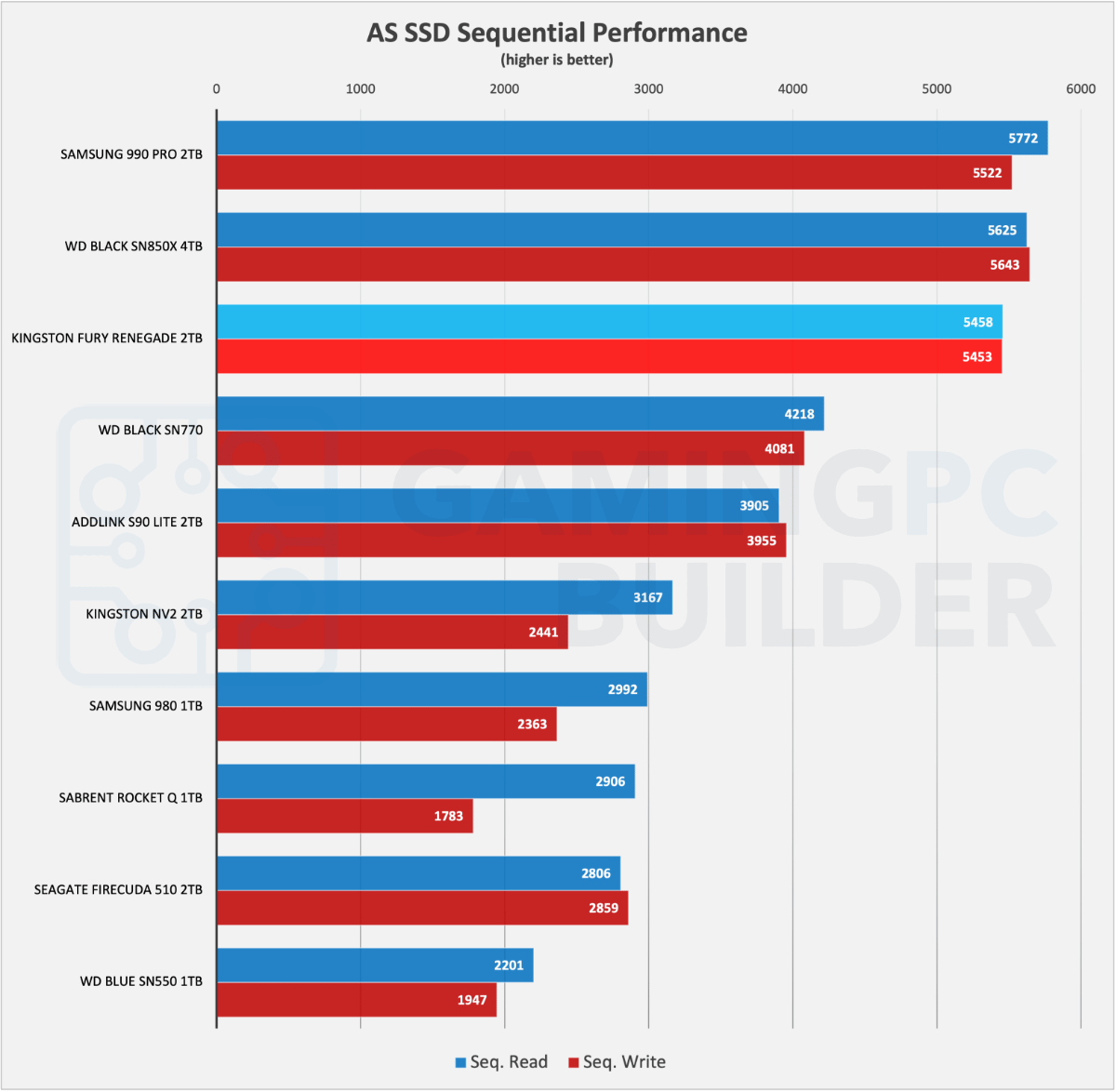 AS SSD uses incompressible data and the results therefore consistently end up below the theoretical maximum transfer rates. The Fure Renegade is notably close to its high-end competitors here, and quite far ahead of midrange DRAM-less offerings like the WD_Black SN770 and Addlink S90 Lite (Phison E21).
CrystalDiskMark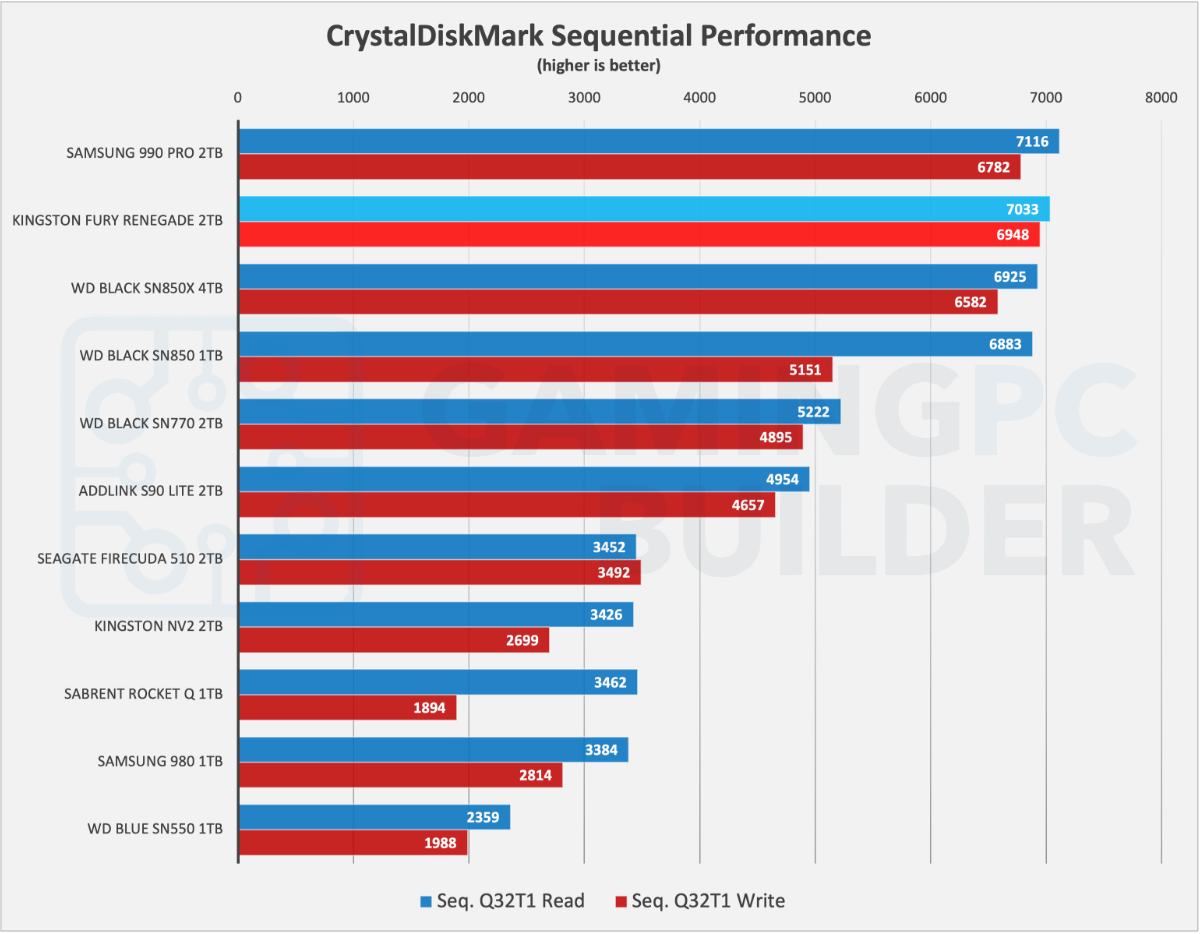 CrystalDiskMark is a bit more forgiving than AS SSD in terms of peak transfer rates and also allows the 2TB Kingston Fury Renegade to surpass the WD_Black SN850X by a small margin.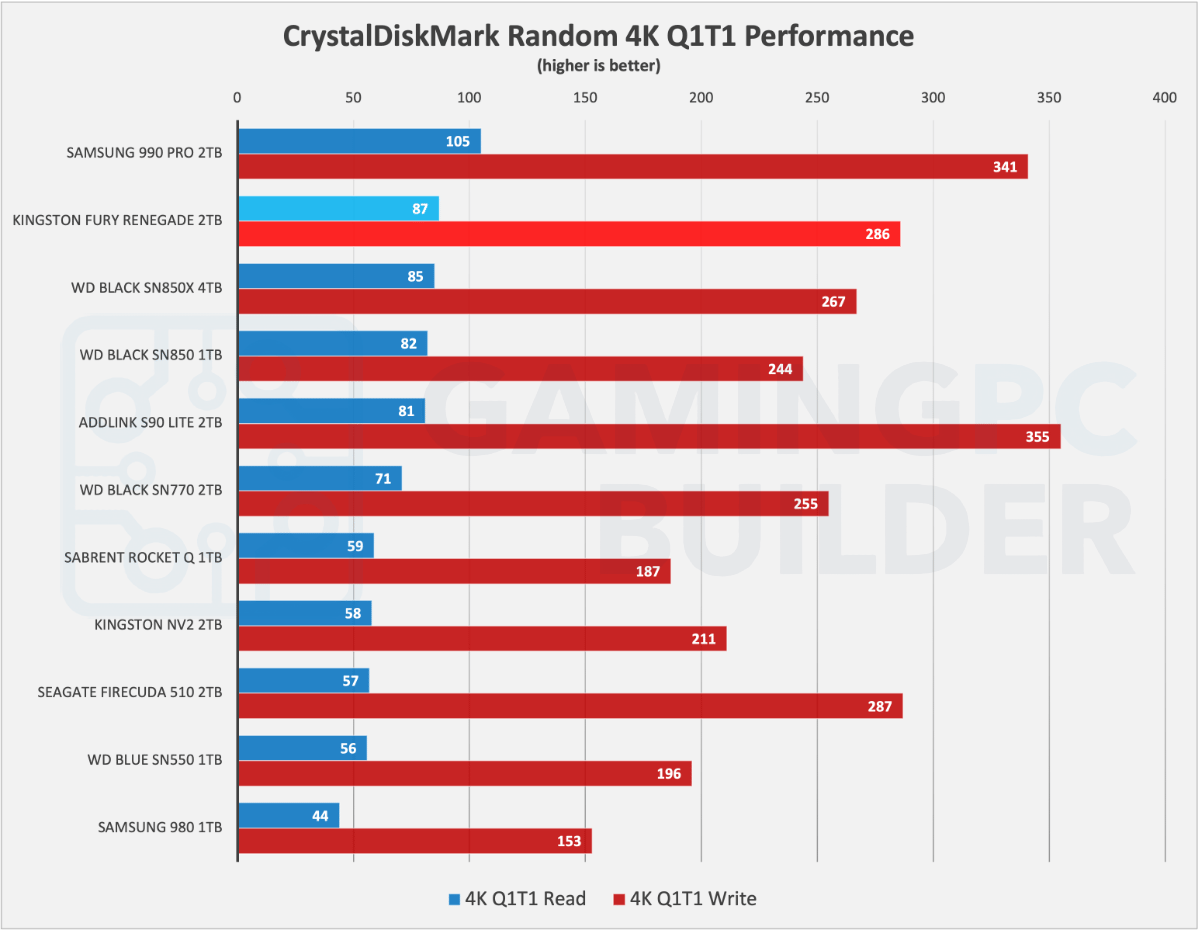 Sequential transfers of large files may be a common task for an SSD in an external enclosure but is not typical for internal SSDs. Here, random 4K data at minimum queue depth is generally a better measurement of real-world performance. It is also less consistent, but the Kingston drive remains slightly ahead of the SN850X (and its SN850 non-X predecessor).
Response Times/Latency (Anvil's Storage Utilities)
For many of the same reasons why 4K data is important, so is latency. The Samsung drive holds a clear lead for 4K reads but the drives mostly follow the same overall pattern, with entry-level M.2 SSDs like Kingston's own NV2 being noticeably slower.
Loading Times (PCMark 10, FF XIV, 3DMark)
The best proxy for real-world performance is not measuring it by proxy at all. PC Mark 10 comes close enough with its 'app start-up' discipline.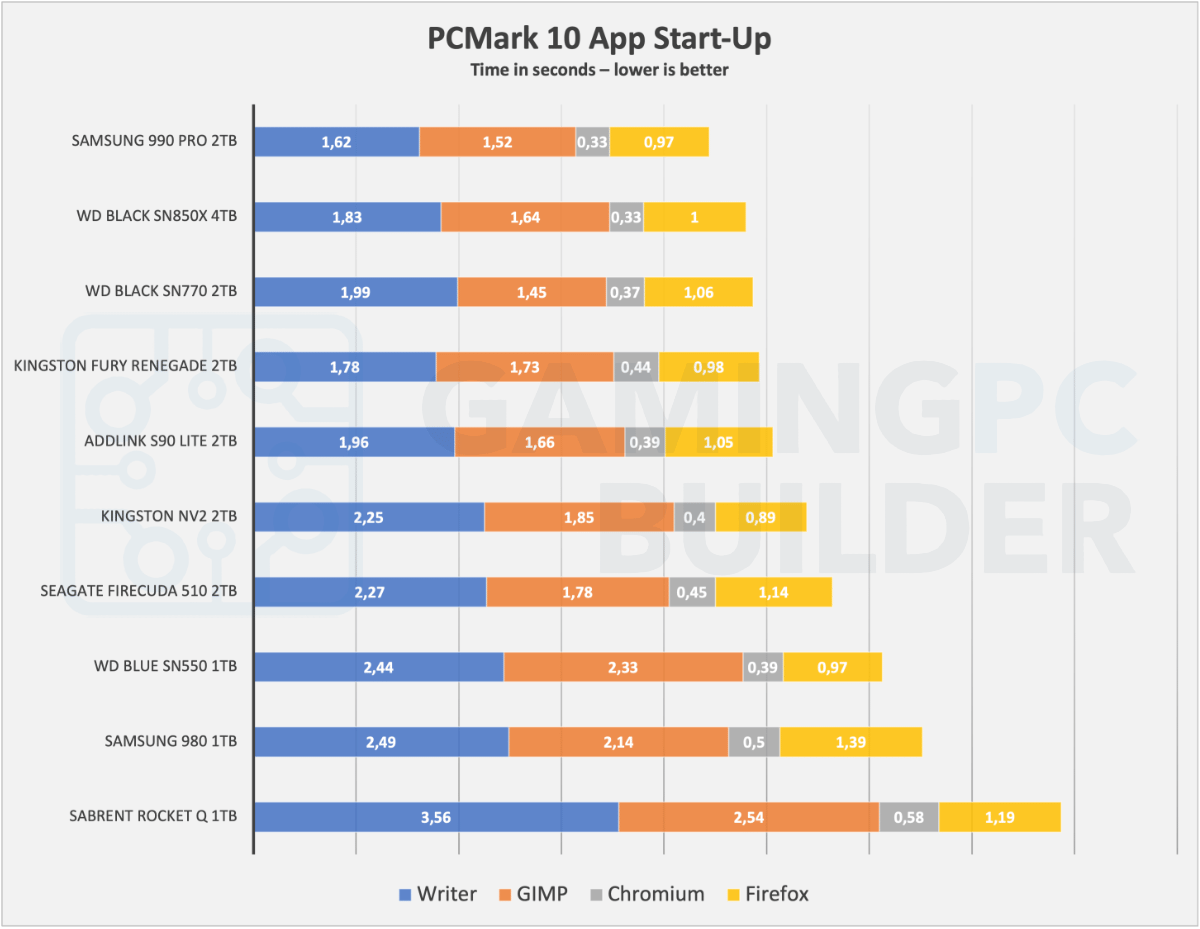 Interestingly, the midrange DRAM-less drives close the gap here, even if it's not by perceptible amounts.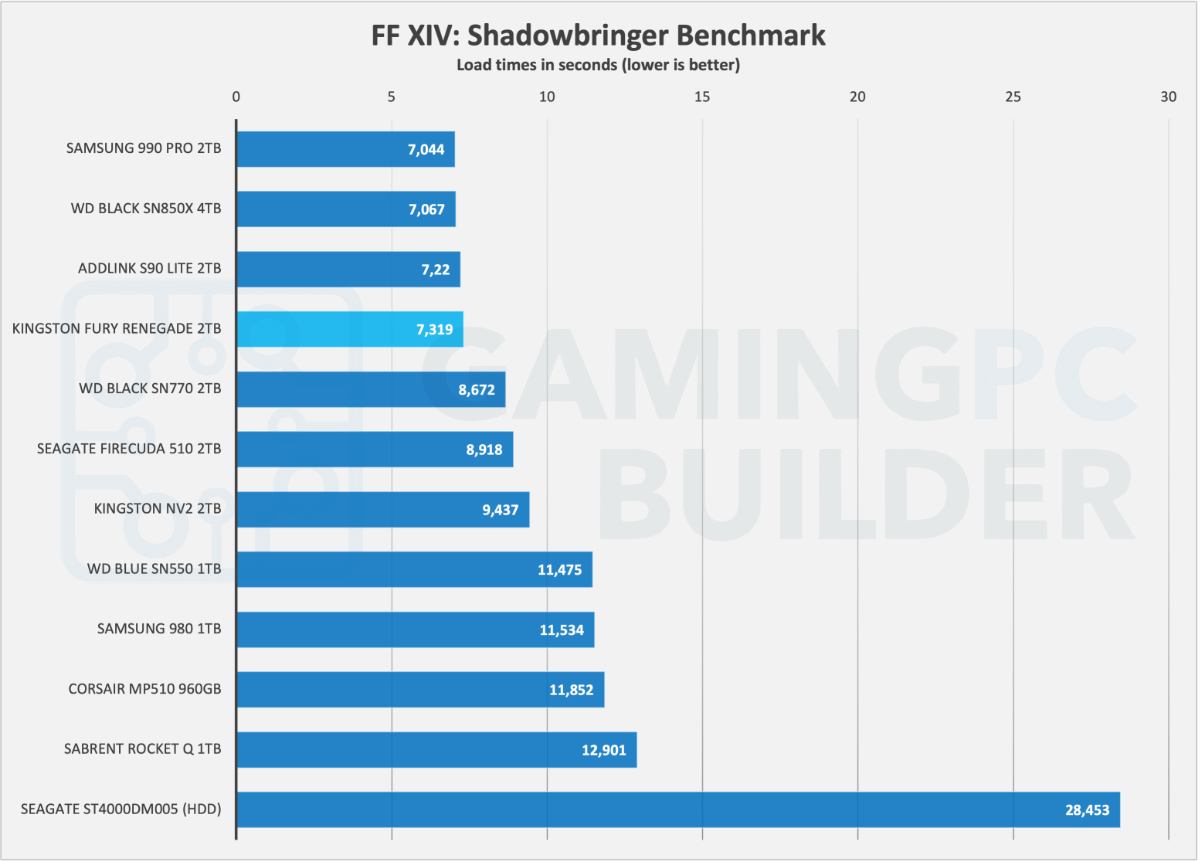 The standalone benchmark for Final Fantasy XIV: Shadowbringer is mostly intended to measure GPU performance, but also provides individual and total loading times for its five included levels/scenes. Only small fractions of a second set the leading SSDs apart and the Kingston Fury Renegade would not be perceptibly slower than the Samsung 990 PRO.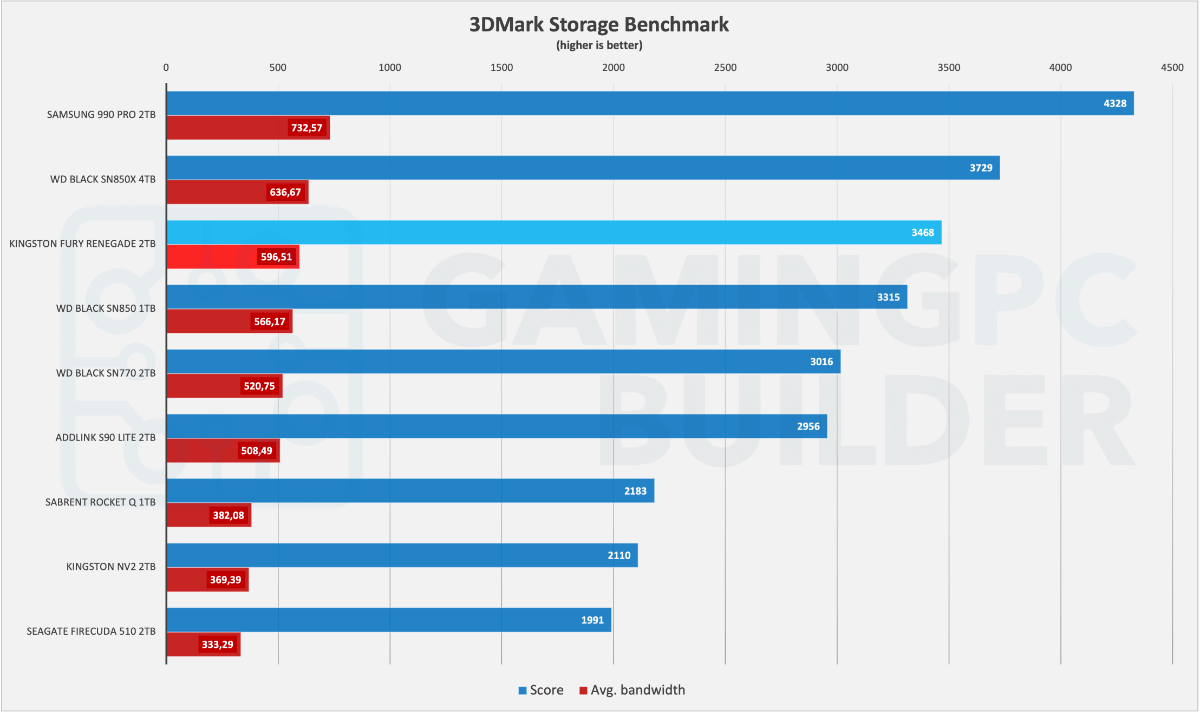 Gamers are often the main target audience for high-end M.2 SSDs and Kingston is no different with its Fury lineup of memory products. UL's 3DMark Storage Benchmark takes a variety of gaming workloads and combines them into a total score based on the average transfer rate. Based on these results, calling the 2TB Fury Renegade a "gaming SSD" seems like an apt description.
Conclusion: World-Class Price/Performance Ratio
The steep price drops of NAND Flash memory have resulted in fantastic street prices of high-capacity SSDs. Only PCIe Gen5 SSDs remain close to their MSRPs, while even high-end Gen4 models often sell at half of their launch price.
Another consequence of this is that SSDs with onboard DRAM are not priced all that far apart from the DRAM-less alternatives. It is quite clear that DRAM still matters to some extent, so an SSD like the Kingston Fury Renegade might be worth a small price premium if you are going to use it as a system drive.
There is no question that Kingston's flagship Gen4 drive is very fast. It often only trails the Samsung 990 PRO by a hair, which is impressive considering that its Phison E18 controller and NAND combo have been around since early 2020.
Kingston Fury Renegade 2TB
An excellent high-end Gen4 SSD that consistently performs well across most common workloads
PROS
Excellent overall performance
Often reasonably priced
CONS
Still slightly behind the 990 PRO