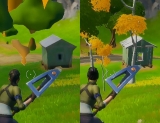 Fix Fortnite Textures Not Loading Properly
Gaming PC Builder is reader-supported. When using links on our site to make a purchase, we may earn an affiliate commission.
Verify game files
1. Go to your Epic Games Launcher Library, click the … button for Fortnite and click Verify.
2. Epic Games Launcher will initialize and verify the game files for Fortnite.
3. Sometimes it fixes the textures not loading properly, sometimes not.
If that doesn't fixed the problem, do the next steps.
Limit frames per second
In Fortnite display settings, set the Frame Rate Limit option to 30 FPS and set Graphics Quality to Low. You can set the Frame Rate limit to 60 after the textures have been loaded properly.
Verifying the game files and limiting the frame rate always solves the problem. No need to
-- edit config files and registry,
-- clear temporary files,
-- add command line arguments in epic games launcher,
-- install anything that speed up your computer, or
-- set the Power Plan to High or Ultimate
FIX Fortnite Texture Not Loading | The EASIEST Way
The best way to avoid this problem is to upgrade your processor. This problem usually happens when you have a slow processor. In our test, we used Intel Celeron G550 dual-core processor. This never happened on our Intel i5-3470 quad-core.