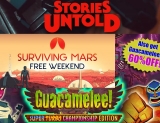 Games You Can Play for Free This Weekend May 17
SURVIVING MARS IS free to play starting now through Sunday, May 19 on Steam. You can get it for up to 66% off during this period until Tuesday, May 21.
Meanwhile, in Epic Store, STORIES UNTOLD is free until March 30.
Another free game you can get this weekend is GUACAMELEE! Super Turbo Championship Edition. You can get it at Humble Store until May 19.
Steam also launched the Post-Apocalyptic Weekend sale. The most popular post-apocalyptic and survival games are on sale up to 75%. These games are Mad Max, Borderlands 2, XCOM 2, Bioshock Infinite, Dead State Reanimated, Metro Last Light Redux, Enslaved, Left 4 Dead 1 and 2, and over 100 games on lower deals. This weekend sale ends in Monday, May 20.