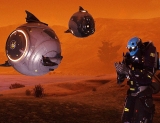 Games You Can Play For Free This Week July 22nd
Gaming PC Builder is reader-supported. When using links on our site to make a purchase, we may earn an affiliate commission.
Outpost Zero is free to play until Thursday, July 15th on Steam. During this time until August 2nd, Outpost Zero will be on sale for 30% off. Limbo is free to download and keep it forever from Epic Games until July 25th. Just login to Epic Games and Steam launcher to get these games.