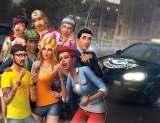 Free Games You Can Get This Week May 22
Gaming PC Builder is reader-supported. When using links on our site to make a purchase, we may earn an affiliate commission.
Electronic Arts is giving away The Sims 4 for free until May 28, Tuesday. You can download it through EA Origin Client, only for PC and Mac.
With the upcoming release of F1 2019 in June and the all new GRID in September, Codemasters is giving away GRID 2 that was released from 2013, for free. You can download it through Steam client until Thursday, May 23.