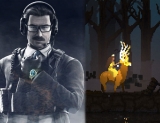 Free Games You Can Get This Week June 07
Gaming PC Builder is reader-supported. When using links on our site to make a purchase, we may earn an affiliate commission.
Rainbow Six Siege is free to play starting now through Sunday, June 09, 8PM UTC (12PM PST) on Uplay and Steam. During this time until June 11, you can get 50% off on Rainbow Six Siege Regular, Ultimate, and Gold Editions, and 60% off on Deluxe Edition. DLCs are also on sale up to 50% off. Previous Rainbow Six games are also on sale for 66% off.
Meanwhile, in Epic Store, Kingdom New Lands is free until June 13.
And on June 10 at 10:30 AM PT (1:30 PM ET), you can get Rayman Origins for free by watching at least 30 minutes of Twitch live stream of Rayman 2 speedrun hosted by Ubisoft. Just make sure that your Twitch account is connected to your Uplay account and you will get the game via Twitch Drops. Click here to connect your Twitch account to your Uplay account.