DOTA 2 Reborn Hardware Performance Benchmark
Video Card Performance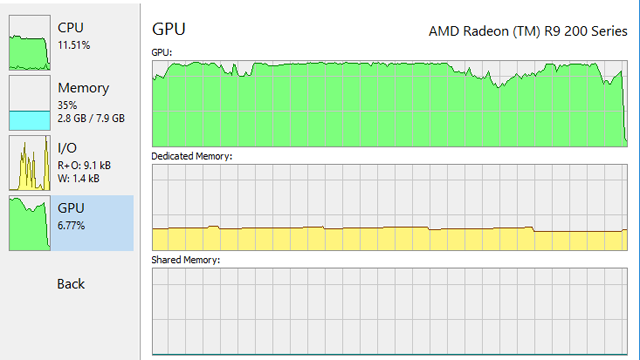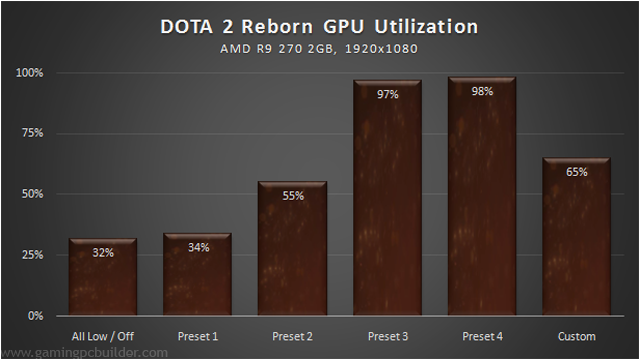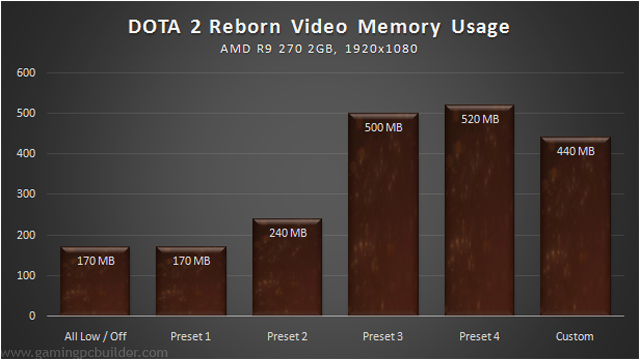 The game utilizes the full processing power of the AMD R9 270 when set to Preset 3 and 4. With all settings at low and off, together with Preset 1, it only utilizes 32% and 34% of the GPU, while Preset 2 and our custom preset stays at the middle with 55% and 65% utilization. This shows that DOTA 2 Reborn (Source 2 engine) is GPU dependent, meaning it can use all the processing power of the video when all settings are turned on.
Meanwhile, the game is not that demanding when it comes to video memory. At Preset 3 and 4, it only uses 500MB and 520MB. This means that having 1GB of video memory is very well sufficient. Let's see if having only 512 MB of video memory can deliver playable experience at presets 3 and 4.
At 1920×1080 resolution, the AMD HD7750 and R9 270 are both playable on all presets, but the R9 270 is less affected with higher presets, from 142 fps with all settings turned off down to 107 fps at preset 4, about 25% penalty, while the HD 7750 took about 65% penalty, from 142 fps with all settings turned off down to 49 fps at preset 4. The 9600GT is playable on all presets except presets 3 and 4, delivering only 25 fps each.
Here we see that having only 512MB of video memory cannot deliver playable experience, at least at 1920×1080 resolution. Lastly, the Intel HD2500 is playable with all settings turned off delivering 58 fps and at Preset 1 with 47 fps. You might want to play at preset 1 as the graphics with all low / off settings looks really ugly. Other than the two presets, other presets are unplayable with Intel HD2500.
At 1366×768 resolution, performance hits are lesser with the AMD HD7750 and R9 270. The 9600GT is now playable on Presets 3 and 4 with 41fps each, but the Intel HD2500 is still only playable at Preset 1 and with all settings low/off.
Take a look at HD 7750 and 9600GT on Preset 2 and Custom preset. At 1920×1080, Preset 2 has higher fps than custom preset, on both cards. But with lower resolution, the custom preset is now faster than Preset 2 on both cards. This is because DOTA 2 presets changes its settings with different resolutions and video cards.
Graphics API Performance
Valve adds native OpenGL support for DOTA 2 Reborn using Source 2 engine. The game can also run on DirectX 11 API, but the default is still DirectX 9. To be able to run DOTA 2 on OpenGL, you need to download the OpenGL support for Windows update. Then add "-gl" to launch options. To run on DirectX 11, add "-DX11" instead of "gl". You don't need to add anything to run on DirectX 9 as it is the default API.
Remember we ran these benchmarks on Windows 10, and DX9 mode was the fastest with 107 fps, followed by DX11 with 90 fps, and OpenGL being the slowest with 56 fps. Having DX11 card doesn't guarantee a faster performance using DX11 API, at least at this game.
Operating System Performance
Windows 10 and Windows 7 benchmarked with default API DX9 while Linux Ubuntu 15.10 on OpenGL. Only 1 fps difference between Windows 7 (110 fps) and 10 (111 fps) at Preset 4 while only 64 fps on Ubuntu 15.10. Using our custom preset, the difference between Windows 7 and 10 went up to 3 fps (135 and 132 fps) while the Ubuntu went up to 80 fps. This shows that Windows / DirectX has superior performance over Linux / OpenGL, about 45% faster. It is still playable on Ubuntu though.
CPU Performance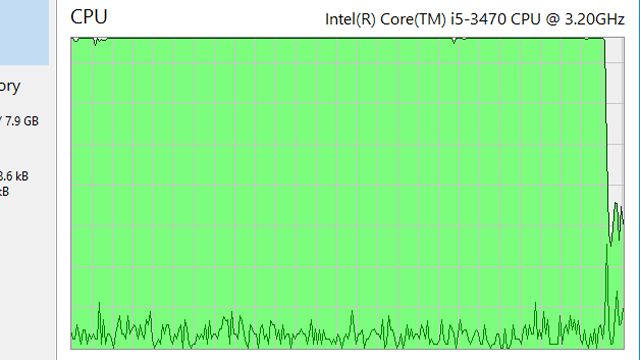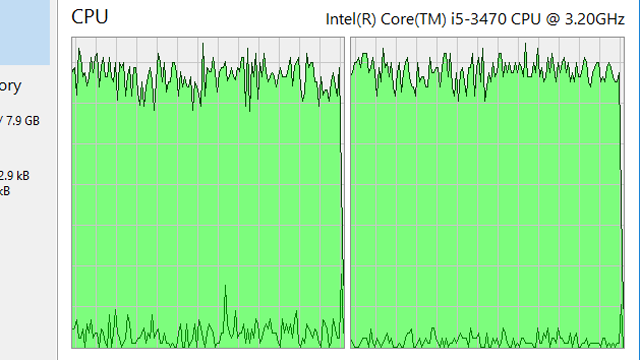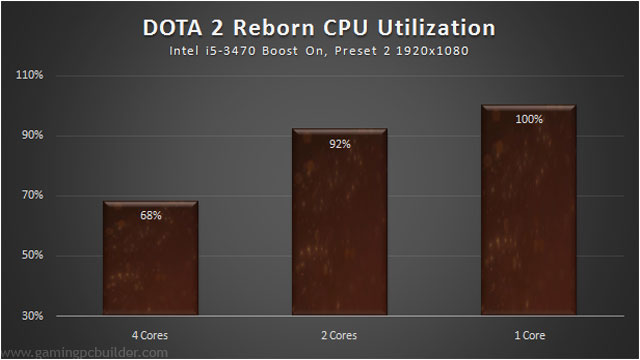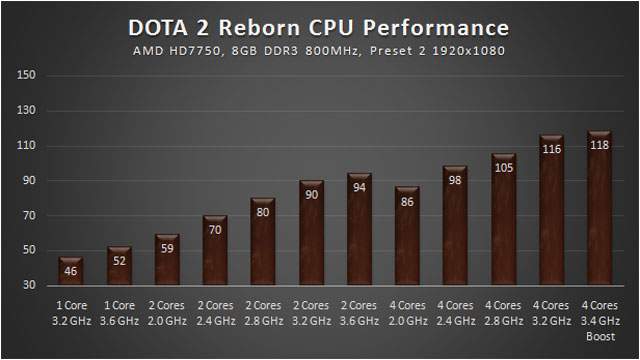 With 4 cores, the utilization is 68%, 92% with 2 cores, and 100% with 1 core. Judging by these numbers, you can say that DOTA 2 can't maximize the full power of a quad-core. But when you look at the graphs, utilization across 4 cores are well distributed, meaning it uses all of the cores. Looking at the performance benchmark, DOTA 2 is more sensitive in terms of clock speed than the number of cores – you get more fps with higher clock. The high speed dual-core beats the low speed quad-core. 3.2 and 3.6 GHz were 90 and 94 fps respectively, while the 2.0 GHz quad-core is only 86 fps. Having a single core CPU is still playable, showing the scalability of the Source 2 engine.
Memory Performance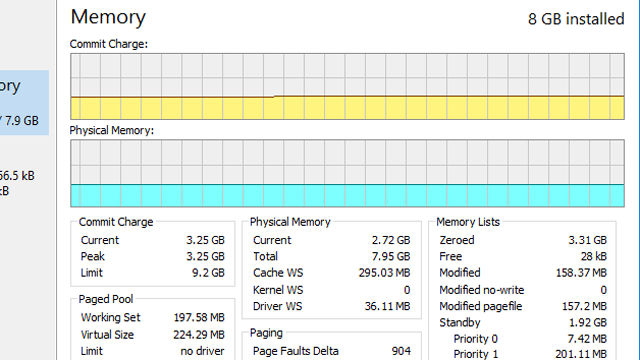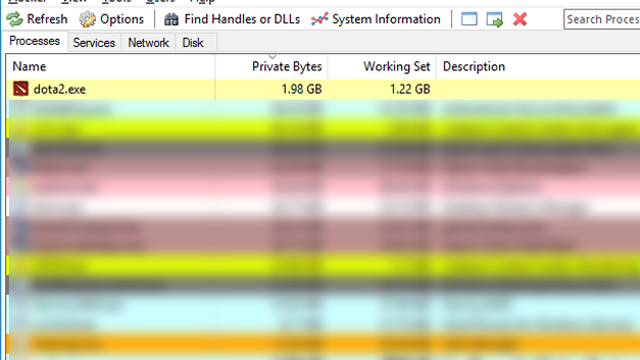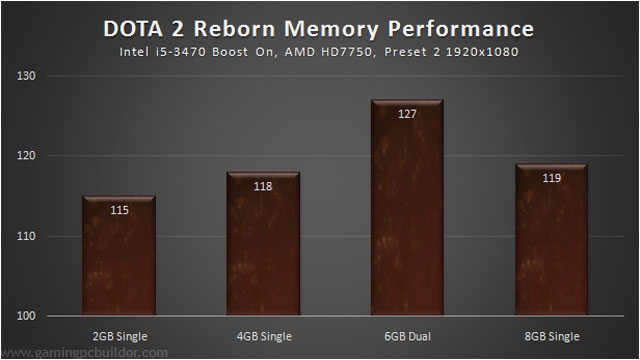 DOTA 2 used 1.98 GB (Private Bytes) and 2.72 GB with operating system and other software. This shows that you should have more 2 GB of RAM but the benchmark shows that you can. 115 fps with 2GB, 118 with 4GB, and 119 fps with 8GB – minimal improvements at single channel. But with 6GB at dual channel, the performance went up to 127 fps – 8 fps faster than with 8GB at single channel. With this game, having large RAM doesn't necessarily mean better. All RAM were used at 800MHz.
Performance with Minimum Requirements and Lower
I got curious if having the minimum system could play DOTA 2 well. I imitated the minimum system requirements by disabling 2 cores out of the 4 cores of i5 and downclock it to 2.8 GHz. Luckily I have GeForce 9600GT which is exactly the minimum video card required along with GeForce 8600GT, though I believe that the 9600GT is way faster than 8600GT.
Our own minimum system is very much playable on all presets at 1366×768, with 41 fps on Presets 3 and 4, and above 60 fps for the rest of the presets including custom settings. At 1920×1080 resolution, Presets 3 and 4 dropped below 30 fps with 24 fps each. The rest of the presets are above 60 fps except for custom setting with 56 fps.
For what I understand about the "Minimum Requirements", it is the least system that you will be able to "play the game only with minimum settings". Based on our benchmarks, the minimum system requirement is too powerful with all the settings turned off, even at 1920×1080 resolution. I got curious again of what could be the real minimum requirements so I decided to test the game with less powerful components.
I downclocked the processor to 2.4 GHz and used its integrated graphics. We still used 4GB of RAM, but it is now sharing 1GB to the integrated graphics that makes it 3 GB RAM + 1GB video memory.
Now we are seeing a "realistic" minimum requirements. The game is only playable at Preset 1 and with all the settings turned off, both at 1920×1080 and 1366×768 resolutions. Higher presets and custom setting dropped below 30 fps, which is too slow for this kind of game. So don't be afraid if you only have integrated graphics, but you can only play at preset 1 with it. We already addressed this to our first dota 2 benchmark and I don't know if the developers adjusted the requirements on DOTA 2 Reborn / Source 2 engine.