Low End PC Performance Guide: Borderlands 2
CPU Performance
The game requires dual-core processor at 2.4 GHz. But even at 1.6 GHz it is possible to have a playable experience provided that you have a better video card. Single core processors, even clocked at 2.6 GHz, held back the performance down to 30fps.
Memory Performance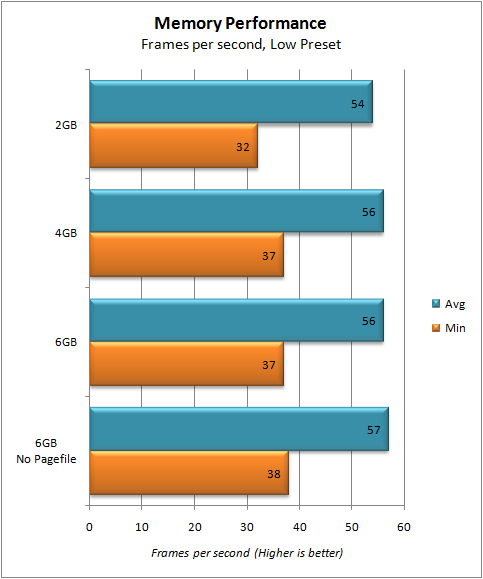 There is no substantial performance increase going from 2GB to 4GB except for improving the minimum by 5fps. This improved the overall gameplay and you won't probably feel the slowdowns during heavy gunfights. Going from 4GB to 6GB gave us nothing; this means that 4GB of memory is sufficient for the game. Removing the pagefile also gave us almost nothing. If you already have big memory, you don't have to remove the pagefile, for this game.
The game launches faster in 4GB by 4 seconds than in 2GB. Having larger memory than 4GB will not make the game to launch faster, even by removing the pagefile. In loading a level, the differences are insignificant from 2GB to 6GB.
SUMMARY
Borderlands 2 is a great game in a way that lower end systems can run this game with high settings at 1280×720 resolution. You can even tweak the game to gain more performance. If you have high and ultra high end system, you can cranked the resolution up to 1920×1080 at set Physx effects to high to get the most out of this game can offer visually.