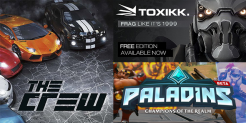 FREE Games – The Crew, TOXIKK, and Paladins Open Beta
Get The Crew on Uplay from September 14 to October 11
To celebrate Ubisoft's 30th anniversary, The Ubisoft Club is offering you seven digital PC games. Every month a new game will be revealed and free to download. Then it is yours to keep! Hurry up, the game is available for a limited time. Just register here with your Uplay account.
The Crew takes you and your friends on a reckless ride across a massive, open-world recreation of the United States that is loaded with exciting challenges. Generous in content and tailored for the connected generation, The Crew is the action-driving game that shook up the codes of the entire genre.
Get The Crew here – https://club.ubisoft.com/en-US/ubi30
TOXIKK Free Edition
FRAG LIKE IT'S 1999! TOXIKK plays as if today's military shooters never existed: Designed as a spiritual successor to the FPS giants of the late 90s and early 2ks, TOXIKK carefully evolves their mechanics with modern technology and fresh ideas elaborated with Arena-FPS enthusiasts.
The free edition of Toxikk is a lot more than just a demo. It comes with the full core experience, has no competitive disadvantages versus the full game, and lets you play TOXIKK for free, for as long and as often as you like.
Get TOXIKK Free Edition on Steam.
Paladins Open Beta
Paladins, the new team based shooter from Hi-Rez Studios, officially transitions to open beta. Initially unveiled in August of last year Paladins combines FPS gameplay with unique character customization through collectible cards. Over the past few months Hi-Rez Studios has been working closely with the Paladins community to create something special and now invites everyone to experience Paladins' blend of fast paced shooter action, a diverse cast of champions and deep character customization.
The Paladins open beta on Steam is launching with Steam achievements, and Hi-Rez Studios also teamed up with Valve to offer players a special Team Fortress 2 Engineer skin for the Paladins character Barik. This skin can be unlocked by playing the champion Barik 5 times through Steam.
Players interested in joining the Paladins open beta can download and play for free by visiting www.paladins.com or Steam.