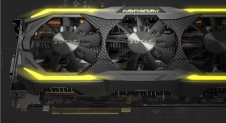 Best Video Cards for August 2016
Budget / Online Gaming $95 – $110
AMD Radeon R7 360
​Get greater than 60 fps gaming performance at 1080p or 1440p, ultra-settings, in popular online games with visual realism that doesn't sacrifice performance. Game at 1080p, or at quality that rivals 1440p with your 1080p display, all thanks to AMD's Virtual Super Resolution (VSR). Play with no tearing or stuttering with AMD FreeSync technology.


---
1080p Gaming $200 – $240
AMD Radeon RX 470
Conquer the latest DirectX 12 and Vulkan titles with powerful Async shaders, new geometry capabilities and the best version of Graphics Core Next yet! Enjoy incredibly smooth and low-latency gaming at virtually any framerate thanks to AMD FreeSync technology. And stream and record your favorite games at 4K, H.265, 60 FPS with virtually no performance impact.
---
1440p Gaming $250 – $280
nVidia Geforce GTX 1060 6GB
The GeForce GTX 1060 graphics card is loaded with innovative new gaming technologies, making it the perfect choice for the latest high-definition games. Powered by NVIDIA Pascal –  the most advanced GPU architecture ever created – the GeForce GTX 1060 delivers brilliant performance that opens the door to virtual reality and beyond.
---
4k Gaming $630 – $730
nVidia Geforce GTX 1080
NVIDIA's new flagship GeForce GTX 1080 is the most advanced gaming graphics card ever created. Discover unprecedented performance, power efficiency, and gaming experiences—driven by the new NVIDIA Pascal architecture. This is the ultimate gaming platform.
---
VR Gaming $430 – $450
nVidia Geforce GTX 1070
Take on today's most challenging, graphics-intensive games without missing a beat. The GeForce GTX 1070 graphics card delivers the incredible speed and power of NVIDIA Pascal — the most advanced GPU ever created. This is the ultimate gaming platform.